Murphy Headed to Brown University
From the Middlesex to the Ivy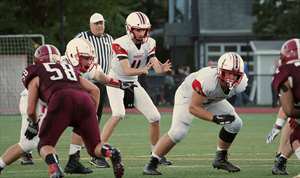 RMHS star senior quarterback James Murphy recently committed to division one Brown University which competes in the Ivy League.
James has been a four-year starter for the Reading football team. He holds the career record for passing touchdowns and passing yards. James has also led the Rockets to a Middlesex League championship every year he has been at Reading. By the numbers, James is clearly one of the best quarterbacks to ever put on a Rocket uniform. 
Brown University is one of the best academic schools in the nation. The university, located in Providence, Rhode Island, is consistently ranked in the top 20 of best colleges in the United States. Brown also competes in a very competitive conference. They play Harvard, Yale, Penn, and Princeton among others. Murphy had many reasons to want to commit to Brown.  "They have a great team, obviously a great school in the Ivy league," he said.  "And I know some of the guys that play there, and they say they love it." James plans on majoring in Economics or Finance at Brown.
"
I know some of the guys that play there, and they say they love it.
— James Murphy ('23)
James had many options to play at a private high school during his high school career. Instead he chose to stay at Reading and play with his friends. This path worked out well for James, as he was rewarded for staying home by earning a spot on a great division one football team. James would specifically like to thank Coach Fiore . " Coach Fiore has done a lot for me and really inspired me to buy into the Reading program and work my hardest every day." Fiore has recently achieved his 150th career victory as head coach of Reading's football program.
At the time of publication, Brown holds a record of 3-6.  They are set to play at Dartmouth University this Saturday.  
Murphy's Rockets currently stand at 9-1.  They look to follow their loss in the state quarterfinals with a satisfying victory over rival Stoneham on Thanksgiving morning at 10:30 at Hollingsworth Field.