Epi-D Students Become Tour Guides
Innovative Project An Annual Rite
RMHS Epidemic Diseases students recently completed a special project which culminated in conducting a historical walking tour in Boston on the smallpox epidemic of 1721.
Students in science teacher Ms. Lynn's and history teacher Ms. Howie's Epidemic Diseases classes have been researching locations around the Freedom Trail that are connected to the smallpox epidemic of 1721 to prepare to give a walking tour. Students picked locations such as Cotton Mather's home, Long Wharf, and the Boston Harbor Islands.
"
Students have to go digging in order to find a lot of information and piece it together into a cohesive talk.
— Ms. Lynn
The project was created 11 years ago so students can learn more about the smallpox epidemic of 1721. "We live so close to Boston and it was the center of the epidemic. We recognize the importance of using place in teaching and learning, and we figured that it would be a great experience to see Boston and walk the Freedom Trail in a different way than how you're used to walking it," said Ms. Lynn. "It's also an authentic learning experience where you're actually being tour guides for us instead of writing papers on it."
Students are responsible for answering guided questions about their location, along with the background information of the spot, and what it was like during colonial times. Although students are provided with some resources to use, they must also research more about it on their own. "A lot of the sites that people are giving talks on have relatively limited information available. Students have to go digging in order to find a lot of information and piece it together into a cohesive talk, so it helps to strengthen research skills," said Ms. Lynn.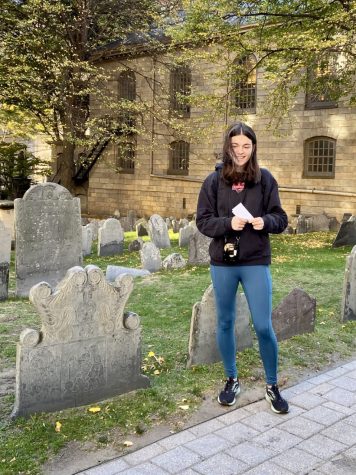 Ms. Lynn and Ms. Howie both hope that students gain a lot from the trip. Ms. Howie stated, "We hope that students accomplish quite a few things. One is overcoming fears of presenting and talking in public. Many students feel so accomplished at the end because there's so many parts to it." Ms. Lynn says that she hopes students feel proud of what they've done. "I hope that students accomplish a sense of pride in being able to create the tour talk and present it to their classmates. I also hope that students have a bonding experience on the day of the trip. Our class typically becomes closer just as a result of walking around the streets of Boston all day and having lots of time to talk."
In the days leading up to the trip, many of the students expressed excitement about the trip.  Audrey Thornton ('23) said she's excited to learn more about Copp's Hill Burying Ground and to walk around Boston. Sedona Skenderian ('23) stated, "I hope to learn more about how smallpox affected Boston, and I am excited for the trip." They completed the the trip on November 9th and 10th.