Metal Canvas
Artist Ruth Clark & Reading's Public Art Project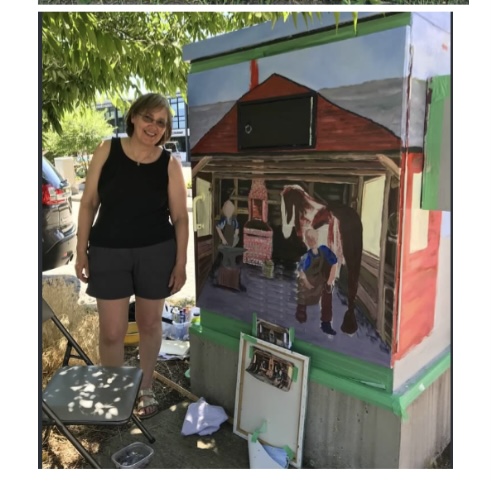 It's about 10 am on July 24th, the registered first day of production, when the first of many heat waves caused a delay in Ruth Clark's utility box plan. 
Andrew MacNichol, the project lead, received an outpour of applications in late 2019 for the "Outside the Box Mural Program: Building Community and Bringing Art to Unexpected Places." The submission deadline of April 15th, 2020, later extended to May 13th, led to the discovery of in town resident Ruth Clark's proposed design.
When MacNichol notified the artists of their acceptance, he also asked that they complete the work by the end of August 2020. This gave Clark, with the assistance of her daughter Carolyn who has been home for an extended period because of COVID-19, about a month to finish this box. 
After a friend had seen Clark's commissioned mural in Rockport, she wanted Clark to paint something incorporating Readings 375th celebration on the back of the garage at Reading's Cain Oil headquarters. The back of the garage faces a driveway on Green Street.  After doing plenty of hours of research, Ruth wanted her mural to depict the inside of a blacksmith shop somehow. Part of her research had her reading through the book "At Wood End" from Reading's 350th Anniversary celebration. On page 134 there was a photo, from the Blodgett Collection, of  five houses on Green Street. Unfortunately, the Cain Oil project could not be completed due to unforeseen circumstances, but that picture of the houses on Green Street turned out to be research for a future project. 
On her application, Ruth shares her inspiration surrounding her utility box painting. On one side of the box, her painting depicts an imaginary elevated view starting at Green St. from the first affordable houses built in Reading by Greenwood and looking northeast over the post office to Old South Church. There were blacksmith shops in this area, and the other 3 sides of the box depict an imaginary blacksmith shop. Included are 7 animals, a squirrel, cat, dog, horse, mouse, and two wild turkeys – one represents "Limpy" who became a well known idol around town in late 2019 and died on West St. on New Year's Day 2020. The gentlemen blacksmiths are modeled after Reading historian Everett Blodgett, former Chemistry teacher at RMHS, and John Cain, of Cain Oil.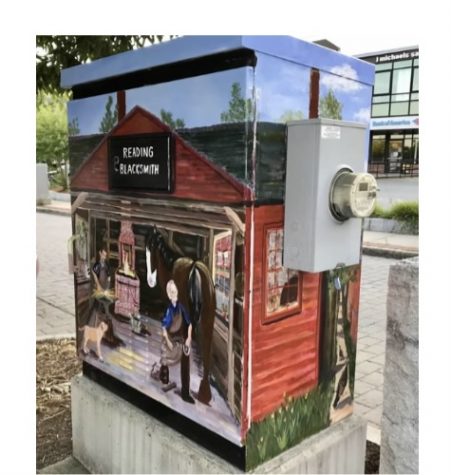 After being assigned the location of Haven and Main Street, Ruth got started on her utility box. Ruth shares the numerous curious residents walking past, sharing their excitement and delight at the beautiful depiction of the history of Reading. She painted her box using a water based primer first. Then they used Golden GAC 200 liquid acrylic paints. And lastly they applied Liquitex Soluvar sealer.
In about three weeks' time and forty hours of hard work, Ruth's months of preparation were finished and sealed in the community forever on August 13th, leaving the remnants of history in the current day.