On Diamonds and Success
A Young Entrepreneur Finds a New Passion During the Pandemic
A young girl sits at a desk in an ivory chair, the back of it is woven into the image of roses. The desk is perched against the wall and although her mind flows with equations, vocab words and historical facts, she is in a trance of creativity as she is busy working on her passion. Her hand wrapped around a silver device that clamps to the chain in her other hand and her space is lined with silver and gold pieces. Some letters, some flowers and some animals, are the pieces that she will use to create the gift of personalization. The sun rests on the edge of her workspace creating a glow that makes the objects shine while her mind is deeply focused on the project in front of her. Her desk drawers are lined with materials, each with different themes, organized for her daily duties; her duties as a young entrepreneur.  She hears a ping of her phone, a soft but exciting ding that alerts her a new order is in and she begins her work making her jewelry for her customers. 
Lucy Boyden, a sophomore at RMHS, has developed a successful small business in a short amount of time. Over the past couple months, Lucy has taken a passion and turned it into something of great accomplishment and noteworthiness.  
Throughout the pandemic, people had to find new ways to pass the time. RMHS students especially with online school, had a lot of alone time and self reflection.  So what did Lucy decide to do? 
She did what 72% of high school students according to Crystal Kadakia from the Huffington Post, dream of doing: started her own business. High school students across the country dream of entrepreneurship, but with school, work and other responsibilities, many individuals feel they do not have time or resources. There is such a large drive for teens wanting to start businesses, which surprises many. But, Lucy is proof of doubted success. Her jewelry company, the Jewelry Place that sells necklaces, earrings, keychains and bracelets, has in just a few short months, been successful and helped people along the way. 
For this order, she opens a drawer labeled "chains" in it, the silver and gold are illuminated as the sun strikes their figure. She picks out a silver chain and carefully places it in the corner of her space.  It sits there awaiting its charm attachment as Lucy reads the detailed description of the order again. She smiles as she is reminded of why she started the business: personalization. Each order is custom and provides a uniqueness to her job. 
In general, because of the pandemic a surge in business startups have been common. According to Kerry Hannon at the New York Times, the increase is due to "the fact that about 28.8 percent of small businesses were closed for good as of mid-November." This has resulted in a Shop Local Campaign that is stronger than ever, because specifically in Reading, lots of businesses have had to close down. This decline in businesses has been beneficial for Lucy. She is one of the entrepreneurs that started their business amidst an economic recession which is noteworthy given it's strong success so far. 
Lucy is passionate about the impact she is making as not just a jewelry business. On her peers, she is a leading example of determination. Some may wonder how she does it all and her response would be her strong desire to do what she loves and help people along the way motivates her. She is stepping into the world that many young adults dream of and she is doing it in a selfless manner as she has given back to the community. 
A sudden flashback occurs, she is dropped back into her childhood where she enters a store illuminated with the word "gifts." Bombarding her with intrigue, she sees a spinning cart lined with keychains and necklaces all personalized.  Spinning to find "L" she scans the cart and while there is Laura, Lily, Leah, Lola, and Luna, there's no "Lucy." Surprised and sad, Lucy wonders why her name is not represented. Hearing a ping of her phone jolts her back to her room where her materials lie in front of her and she's reminded of why she started.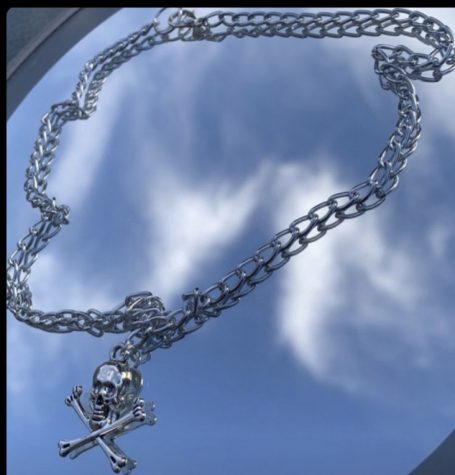 She developed a strong company with a special connection to customers through what is called her "Brand Ambassadors." This group of seven girls were chosen by Lucy as partners to help advertise her company and offer discounts to customers. They also act as mentors for her as they guide her through production, shipping and sales. Sophomores, Emelia Burns, Grace Sullivan, Maya Perkins, Abbey Brenner, Phoebe Kilduff  and Stacey Levesque and junior Julia Mullen make the group of ambassadors. 
Not only is her fast success admirable, but her mission to not just be a business is what makes her company so inspiring.  This holiday season she is hosting a fundraiser where she will donate to homeless shelters in Boston. Her goal is to make sure that especially during the pandemic, people are not struggling.  With her "HOPE" bracelets, 50% of proceeds will go towards the shelters. She is also accepting donations through her company that will be sent along with the money raised from the sale.  So far, she has gathered a good amount to send.
Adjusting her position at her desk, the realm of possibility unfolds. She picks out the pieces, a letter M, then A, Y and A. Lining them up in order, she carefully places them parallel to the chain and is really to attach them with her tool. One at a time, each is perfectly meshed with the silver and evenly spread out to spell out the name "Maya." After connecting each piece she admired the finished product with a smile. Handled with care is her message and she helps people give the gift of personalization. 
Lucy hopes to continue this business throughout high school and beyond. She is passionate about her company and looks forward to developing it further. Hopefully after the pandemic, she can get a booth at the Reading Fall Street Faire and Town Day to sell her items and advertise her business. 
While coming up with a business idea is not easy and at such a young age planning logistics of a business is even harder. But Lucy's determination and effort has helped her to accomplish her dreams.  Her motto "Do what you love" contributes to her driven attitude and attention to detail. She aspires to work and do the things that she loves most. 
Lucy tucks her order into the package, which the product is carefully wrapped.  She folds in a personalized note of gratitude and closes the package. She seals it, addresses it and stamps it and prepares the package to be shipped.  She takes pride in her work and is happy to help the customer. 
Lucy is an example of the kind of passionate individuals that will make a difference in this world making this a diamond success story.
Check out Lucy's business 
@__thejewelryplace on Instagram