RMHS Students Supporting COVID-19 Relief Efforts
Vultaggio and Brabeck Have Taken Action
In the midst of the coronavirus pandemic, students at RMHS are banding together to give back to our community in a variety of thoughtful ways. Two specific RMHS students are spearheading projects aimed at supporting healthcare workers and the work they do. Senior Cole Vultaggio and sophomore Samantha Brabeck are working diligently to donate funds and cards to people in need. 
RMHS senior Cole Vultaggio is one student who is going to great lengths to better the lives of the nurses and doctors working right now. Cole and his family founded Stat Studs, a company originally tailored around creating a sense of fashion to health care workers. In the wake of the virus, they've changed the organization to Studs for Scrubs, donating all the proceeds to American Nurses Foundation COVID-19 Response Fund for Nurses.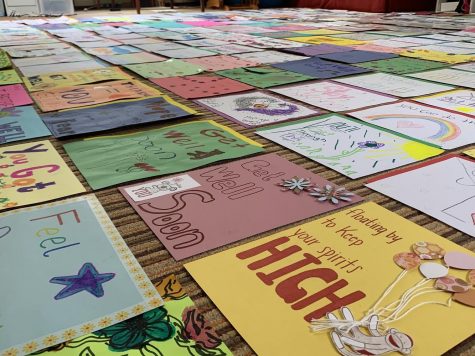 A sophomore at RMHS, Samantha Brabeck has also been spending her time during this pandemic giving back as well. She's collecting posters for patients who have been diagnosed with the CoronaVirus, helping to decorate their hospital rooms. I reached out to Samantha and she shared with me the process of collecting and making her posters, as well as bringing them to the patients.
With this abrupt change in everyone's lives, a lot of people have been motivated to help the people working in hospitals in any way they can. Many people have seen the different problems nurses and doctors are dealing with and have taken the initiative to better the comfort for nurses all around the country. Some have made homemade headbands with buttons on the sides to connect face masks to them so nurses' ears are no longer irritated for their long shifts. Hair clips have been made as well to help ease the comfort to connect the masks to instead of the ears again. It's important that we all do our part in nurturing and rebuilding our community one step at a time. Both Cole and Samantha are great reminders that everyone has an impact and can use their voice to better us all.