DECA Arrives at RMHS
Students See Early Success in New Club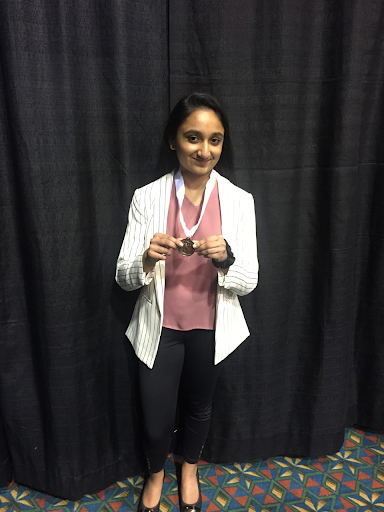 Reading Memorial High School has many new clubs this year, including DECA. DECA is advised by Mr. Dailey and Mrs. Clawson; it is a business based competition organization, and the RMHS chapter has competed well so far this year. 
DECA stands for Distributive Education Clubs of America and it has members from each of the 50 states as well as some international districts, like China and Spain. This organization holds competitions based in four areas: finance, business, marketing, and entrepreneurship. Within these categories are two types of events: roleplay and written. 
Roleplay events consist of a scenario given before the judging. The competitor must brainstorm a solution to the problem and after ten minutes, they are interviewed by the judge, who asks for their solution. One example of this is a marketing pitch to keep subscribers to a media streaming service after dropping a program. 
Written events are more broad. For these events, the competitor must write a paper detailing their plans for their event; this paper is submitted beforehand and on the day of the competition, the competitor must present their project to the judge. One example of this is awareness project management. The competitor would write a paper detailing their plans for the project and they would present it to the judge. 
The top five of every event advance to the next level of competition.
RMHS' chapter of DECA was formed this year by seniors Jaqui Oliver and Nate Heithaus. 10 students went to compete at Districts on December 12th: Kelly Fitzgerald, Lydia Freedman (myself), Benjamin Gaudreault, Nate Heithaus, Peter Iannuzzo, Tanya Manoj, Jordan Moschella, Jaqui Oliver, Ryan Pryputniewicz, and Christopher Sewell. 
I was pushed through to states as there were not enough competitors in my category, community awareness project, on the districts level. Kelly Fitzgerald and Jaqui Oliver (business law and ethics) placed fourth as did Christopher Sewell (accounting). Tanya Manoj placed third with her start-up business plan. 
States are this week, from February 27th through 29th in Boston. Only Fitzgerald and Oliver are going to compete, due to the fees. There will be an update later this month on their competition. 
For the rest of the year, DECA plans to set up a school store to sell inexpensive Rockets merchandise like popsockets and sticky wallets for phones, so we can all show our Reading Rockets pride.