Skenderian Closes Out Storied Career
Senior Leaves with Three Records
Her form is perfect. Her legs kick back, propelling her body forward—a subtle lean putting gravity to work in her favor. Her hands are in fists, with a shiny blue baton in her right hand. Her arms are in sync with her legs: right arm forward with left leg, left arm forward with right leg—every muscle is being used. The gap between her and her nearest competitor widens within seconds on the last straightaway of the track. Now, Sedona Skenderian closes the gap between her and the finish line.
Winchester had no chance.
Sedona Skenderian ('23), RMHS Track record holder and captain, is currently finishing her last high school track practices and meets. 
The sprinter is one of the current school record holders for the Indoor Track 55m event, with a time of 7.4 seconds, which she ran earlier this year during the MIAA Division 2 meet. She is also the school record holder for the Outdoor Track 100m event, with a time of 12.3 seconds. Skenderian has also beaten the 4×200 relay school record with her teammates during winter track.
Sedona, like her striking name which references the mystical city in Arizona, stands out among her talented teammates in the track program. In spring, Sedona is the "final leg" of the 4×100 relay event, the second to last event in a normal track meet. She can be the deciding factor of a win or a loss during a meet.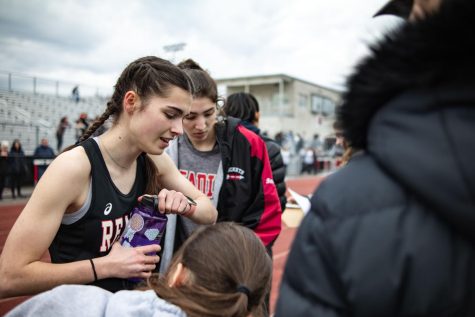 After wrapping up the pre-meet practice, in preparation to go against Winchester, Coach Madden of the girls track talked about her trust in Sedona. Coach walked down the football field, wearing her signature white visor cap.
"She is a very valuable person on the team…a top scorer on the team. She's a captain of our team, she was a captain in the winter, a captain in the spring.  She's a great role model.  She's very quiet but she shows her dynamic–her personality–when she runs."
Katherine Dougherty, a junior on the team, often makes jokes about how fast Sedona is. On a Monday afternoon practice, Katherine walks around the 100m start line, setting up hurdles. She's laughing among the hurdlers and humming songs as she ties on her spikes. Her famous saying about Sedona: "I woke up and I saw Sedona," is based on a lyric in the song "Bugatti". Katherine says that it makes sense, "Since Sedona is so fast, like a Bugatti."
But, besides the jokes, most of them, Katherine has heartfelt respect for the captain. "Sedona is seriously so humble and she really makes me feel like I belong—even though I am really not good at all—and she makes me feel like I can make mistakes."
"
She's very quiet but she shows her dynamic–her personality–when she runs.
— Coach Madden
Teammate and co-captain Audrey Thornton runs the 4×100 and 4×200 event with Sedona, being in the third leg and passes the baton to her. At practices they are always running in the same group. She always has complete confidence in Sedona in finishing the relay.
"I feel like her and I have built this trust, but even from the start we both know what we have to do…she knows I'm going to get it into her hand no matter what and she's just gonna take it and  run as fast as possible—cause she's the last person to go, and she always pulls it off every time."
The sprinting power is usually unbeatable at track dual meets. But that does not mean she has no rivals in neighboring towns. When Burlington is at a meet, Reading has to run against some of the fastest in Middlesex County.
The name Hanafin can turn heads. The last name belongs to several talented athletes of the family, including Grace Hanafin. The Burlington runner sprints in the same events Sedona competes in, always wearing a high and sleek blonde braid. She makes Sedona run on edge. Sedona says it plainly, "She's really good." However, so far during this 2023 spring season, Sedona's fastest time beats Hanafin in the 100m by .07 seconds.
Sedona Skenderian was not born with this speed hiding within herself. She worked herself to come to it. She started running in middle school, during a summer track camp program. But, she did not plan to do high school track until sophomore year, when she joined during Spring. Coach Madden remembered when she first met Sedona, and when she saw Sedona realize she could run.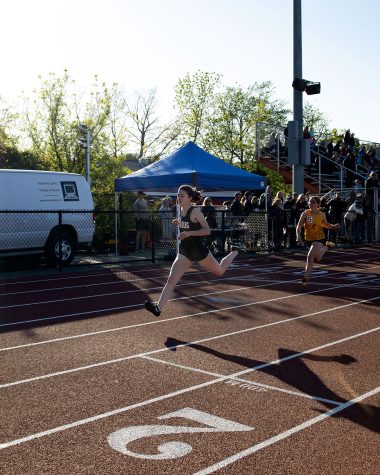 "When she started high school track I believe she was very timid… her breakthrough meet was we were at an invitational at Gordon College, it was a freshman/sophomore meet, and she all of a sudden was like unbelievable and she made it to the finals in the 100, and that was her—when everything clicked and she started to realize she could be a really good runner."
Track has influenced Sedona's life immensely. Shopping recently at Woburn's Target, Sedona wore a pair of low waisted 2000s blue jeans and a purple camisole. A small white headband accompanied her hair that could remind people of Gilmore Girls.
"I definitely talk to a lot more people because of track and it has definitely helped my confidence," Sedona says, smiling.
Skenderian is going to the University of Wyoming next fall and wants to walk onto the track team. No doubt, the Coaches will have to pay attention to her.