Snow Day, or No?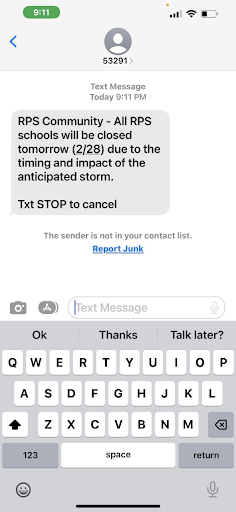 Students know the feeling of obsessively checking the Snow Day Calculator app and waiting to receive the text from the district that there is going to be a snow day. Whether or not that text ever comes, students have often wondered how the decision is made.
Three major factors
Reading Public School Superintendent Dr.Thomas Milaschewski, who is in his second year in town, says that there are "three categories of things that go into the decision making." 
The first is the weather report and following what the meteorologists are predicting. "[If the storm is] coming at a time that will impact arrival or dismissals [that is] especially problematic," said Milaschewski.
The second thing is collaborating with the Reading DPW and the facilities team. "Our Department of Public Works helps to make sure all the roads and sidewalks around town are safe. So if they don't feel like we can get the roads safe, or the sidewalks cleared before school, that puts us in a tough position," said Milaschewski.
The third category of decision making is seeing what neighboring towns do.
"We know that we have staff that come from all over the surrounding area; if some of the local schools cancel school, and they [teachers and staff] have children that are school age, they don't have childcare," said Milaschewski.
Dealing with Complaints 
When making the decision is always met with opinions. "There's always people who are going to disagree with decisions that you make," said Milaschewski. He believes the best way to deal with people who don't agree with the decision is by "talking them through why I've made decisions that I made." He says he doesn't hear many complaints, but out of the ones that he does, none of them are made by seniors at RMHS.
"I've had some of your peers [seniors] advocating to have snow days on some sunny beautiful days. They say it's dangerous, because of the sun," he joked.  Therefore, when he did call snow days, "I didn't get any complaints in the senior class," said Milaschewski.
Making the decision is not always easy and Milaschewski "appreciates everyone's understanding", especially the Reading School Committee, as these are complicated decisions that meteorologists sometimes get wrong as well.
Teacher and student input
When it comes to teachers and students, opinions on snow days can vary. As much as it may seem that snow days are exciting for all, that is not always the case. 
Mrs.Clawson, an English teacher at RMHS, is not a fan of having days off due to the fact that it can be an interruption.  "You have great momentum with the class and then it is broken by a snow day and hard to bring them back in," Clawson said.
Mrs.Clawson is also aware of other impacts snow days may have on her classes like "how is it going to impact the end of the year" in terms of the days that may have to be added on. 
Although Clawson has her own opinions on these days off, she has an understanding.  "Being superintendent is the hardest job because no matter what decision you make you will not make everyone happy." 
Surprisingly enough, members of the student body do not seem to have the same feelings towards snow days. "I just enjoy them so much, and I enjoy them more now that I don't have to make any of them up," said RMHS senior Elise Verrier. 
Verrier is generally of the belief that Dr. Milaschewski gets it right.  "There have been a couple skeptical calls when he should have called to delay and didn't, or did call a snow day and it ended up being nothing–but again, not really his fault." 
The undeniable advantage that seniors have with not having to make up snow days raises the question of whether or not their opinions are biased. In regards to this Verrier admitted,  "I definitely was someone who did not appreciate snow days in the past because I like to get out as early as possible."
However, some current underclassmen are not on that same page. RMHS sophomore Devyn McKenna claimed to love snow days.
Sophomore Maeve Taupier has a simple reason for enjoying snow days. " I like sleeping in," she said.
Snow day rituals
When snow days are called, students and staff have the day off, but that is not the same case for Milaschewski. He always tries to come in to make sure that there is nothing wrong with the buildings or issues on the roads. During the snow day, things are quieter in the office so he takes this time to " catch up on emails [and] try to catch up planning for things ahead," said Miaschewski.
Even though he may be working on snow days, Milaschewski tries to get home early to play with his children who love sledding. 
"If anyone has any good ideas of fun snow day rituals, I'm all ears," said Milaschewski.