Ranking The West Side Pizza Joints
Students search for the holy grail of slices…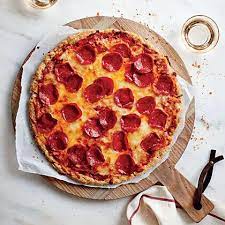 Reading, Massachusetts is home to eleven different pizza establishments. To pay tribute to Reading's favorite food, we assembled a team of pizza professionals and tried the best slices on the West side of Reading. 
Our team consisted of seniors, Matt Lakin, Bryan Beneke, and Noah Santucci. To start our mission we came up with a list of four places to rank. We landed on Nella's Pizza, Colombo's Pizza Cafe, Cal's Brick Oven Pizza, and Anthony's Roast Beef. We asked our pizza connoisseurs what their favorite place in town was before we started. The answers were widespread, as Matt favors Cafe Capri which is listed as the best #5 on Trip Advisors' best pizza in Reading. Bryan's top choice of pizza is Cal's (unranked), and Noah's favorite slice is from Nella's (#3). Our plan was to order a slice of cheese pizza from each restaurant and ask our guests to rank them out of 10 with their reasoning, which we tallied, to create a ranking system. 
Nella's
We started our journey to find the best slice at Nella's, which is located on Main St. We ordered 5 slices of pizza which came out to $16.16.  The pie was in a pizza warming box, so we didn't get a freshly made pizza. We promptly received the pizza and then sat down and began our taste test. It was apparent that everyone had enjoyed the pizza, as it was quickly gone.
Our guests began their review, starting with Santucci, who explained his thoughts: "I'm giving it a solid 8.2. it's my favorite slice in Reading, solid texture, great cheese, right amount of sauce, solid taste of the dough". Similar opinions were also shared by Lakin, who gave a solid 7.8 rating: "I know it wasn't fresh but it still tasted really good, it was just a good slice of pizza". Lastly, Beneke seemed to be conflicted in his review as he gave it a decently high score, but then seemed to list all the things he didn't enjoy. "I'm gonna go with a 7, because it wasn't fresh–and I know that–but it was just a little cold, really flat, kinda dry too. It was good though, good slice, just a lot of down things about it, a little burnt too."  Coming in at a super score of 7.7, it seems that Nella's is a reliable choice and ranked second on our list. 
Colombo's
 We then moved down the street to Colombo's Pizza Cafe on Brande Circle. Parking was ideal and we were greeted by a relaxed host who insisted we go for a full pizza instead of just 5 individual slices. They made the pizza fresh in about 10 minutes, and a steaming pie coated in cheese was delivered to our table. The price totaled to $17.25 for an 8-slice pizza but it was well worth it. "I look at it, it looks cheesy, it looks thin but I take a bite. Wow. 8.3," said Lakin.  Beneke definitely agreed as he hammered home an 8.2 ranking and praised all the qualities of the pizza: "Great, great pizza slice. It was really good, really cheesy. I really like it cheesy, it was big slices too.  Thin–I like thin–but not crispy. It was a good thin." Santucci kept it simple with a 7.5  deeming it "pretty good, little too much cheese but overall good pizza." These scores averaged out to an 8 giving Colombo's the early lead over Nella's. 
Cal's
The new kid on the block was up next-Cal's Brick Oven Pizza/Creamery. Beneke has made his claim this is the spot in town, so our expectations were high. At this point we were starting to feel our previous slices settling in our stomach, so we settled on 2 slices we split evenly instead of 5. The total for 2 came out to $8.50 which initially was a shock but the slices were massive. It was clearly a family-friendly environment as a couple of groups came and went as we ate.
The slices were good, but our judges decided they were not good enough. Santucci said, "I give it a solid 6.0, a little too thin for my liking, a little too much sauce." The cost was a deciding factor for Lakin as he announced, "I get inside and look at the price, the price is high so I expect good quality. Too thin, bad taste." Santucci gave Cal's a disappointing 4.8.   Beneke, on the other hand, turned his cheek and stuck to his claim: "I might have to completely disagree with these two on this completely magnificent pizza. I'm going an 8.6, besides the price this is a bang for your buck, this is a great pizza". Cal's averaged out to 6.4–definitely a spot to stop by and check out for yourself.
Anthony's Roast Beef
Our last stop on this journey to find the holy grail of pizza slices brought us to Anthony's Roast Beef, which provides pizza to the school district. At our final destination we ordered a small cheese pizza, totaling $13.99. As we started to dig in, it became clear that this was the worst slice in our review.
Santucci was dismayed but also quick to compliment Anthony's other menu items. "Solid 2.8, the pizza stinks, but they have good roast beef and should stick to that." Lakin was not a fan as he supposedly has eaten the pizza many times for school lunch and his experiences haven't been great. "It is inedible. I guarantee no one goes there if the school doesn't pay for it. I put that at 1.2." Lakin's comments were highly critical, but the truth was essential to our quest. Beneke let his score do the talking, as he felt this pizza didn't deserve any words: "3.8." Anthony's averaged out to a 2.6, making it the worst pizza on our taste testers' rankings and a subpar pizza joint.
Conclusion
After our journey to 4 different pizza shops on the West Side of Reading, we were able to come up with our rankings, made by 3 trusted pizza professionals. If you couldn't tell by now Anthony's Roast Beef finished at the bottom of the list. There was an average of 2.6 from our critics. As the name states, roast beef is their strong suit and maybe it's better off to leave it at that. Coming in at number 3, Cal's is a relatively new restaurant and had all the buzz surrounding it so the expectations were through the roof. Unfortunately, they didn't reach our lofty expectations, however, we came to a consensus that it was an overall solid pizza with a 6.4, perhaps a little overpriced but still a great taste. Cal's is definitely a hot spot to check out and we recommend heading down and trying it out for yourself.
In second place, Nella's overcame the odds and took a 7.7 overall ranking. Despite not being the freshest slice, it was still highly praised. Next time you're in the neighborhood make sure to order a fresh pizza from Nella's to get the full experience.
Last but not least, the best slice on the West Side goes to Colombo's, which averaged to a score of 8 between our 3 judges. The consensus was the cheese and thinness of the pizza was an elite combination deeming it the holy grail of pizza on the West side of Reading.