Caraco Sets Long Jump Record
Junior Katie Caraco jumped 17 feet, 9 inches to break the 13 year old school track record for the long jump at the indoor pentathlon on March 2nd. 
The school long jump record was originally 17'5, set in 2010; but, Caraco broke this by a substantial 4 inches.
The record was broken at the 2023 Winter Pentathlon at the Reggie Lewis Track in Roxbury. A pentathlon is a 5 event meet that consists of the 55 meter hurdles, the high jump, shot put, the 800 meter race and lastly, the long jump, which Katie placed first in out of 123 other girls competing. 
A well-rounded athlete, Caraco said, "I was attempting to beat this record. I started off long jumping this year, so I really had no idea where I would fall as far as how close or far off I was. Once I noticed that I could potentially break the record, I would try to get closer to beating it every meet." 
This success means a lot to Caraco. "My family is really big into track, and my mom and aunt have had records up in the high school so it's nice to join them."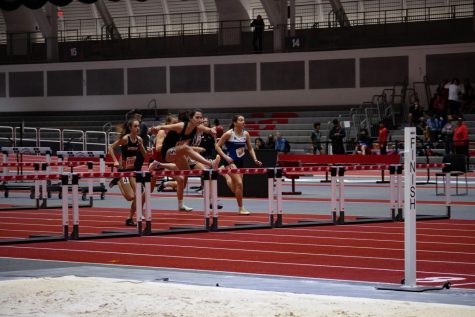 Not only is Caraco an outstanding athlete but she is also a person that anyone would be lucky to have as her friend. One of Caraco's best friends Ava Goodwin ('24) claims, "She is someone who can brighten your day with her high energy and great sense of humor. She knows how to make you laugh and she is very friendly, she can make friends with anyone."
Caraco is only a junior this year and still has this year's upcoming outdoor season and all of next year's season left. She continues to improve every meet and this year's broken school record is only the beginning for her!