A Different Kind of College Application
To many high school seniors, senior year means submitting college applications and slowly winding down their high school careers. But to a small group of seniors, senior year is dominated by perfecting pieces of art, scrolling through piles of past work, and making high-stakes decisions about what to share with picky evaluators–but what are these students doing? Creating an art portfolio that would be. Nowadays, in order to be accepted to many colleges for an art program, students are required to compile a portfolio of their best work and some new pieces to show off their talent. 
Lots to Do
This assignment is not taken lightly and is not an easy thing to complete. Requirements for many of these portfolios take months, I would know from personal experience. Now, this is not all about me – I am one of the thousands of students applying to art schools – but it is safe to say it is a lot of work. 
  To complete a portfolio can be confusing because each college has specific criteria that the applicant is expected to tend to. Some colleges want 15-20 pieces of work, and some may simply only want two. Narrowing down options is stressful, but necessary. There are certain orders to put work in, requirements to meet, and most importantly deadlines to abide by, so it is necessary to get familiar with different college rules.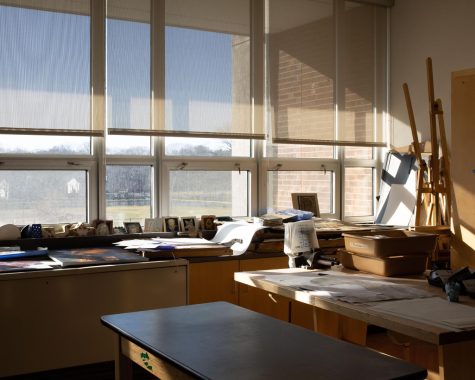 One Student's Process
Students with a passion for the arts can be found all over Reading Memorial High School, but it is less common to see that passion continue through college. It is important to understand the thought process behind this small group of students, to grasp a concept of what they want their future to hold. An upcoming graduate from RMHS, Megan Mclaughlin ('23), took us through her art portfolio process.
In order to put a portfolio together, Megan offers some wise words. "Advice I have is to explore as much as you can now with media, style, and subject so you have a wide variety in your portfolio. The schools want to see that you are curious and excited and serious about exploring your potential in your work." Knowing that colleges are basing their decision mostly on the work the student chooses to submit can be very overwhelming, but it is important to be constantly thinking about what pieces would go strongest in a portfolio. 
Applicants do not get exempt from essays or other writings that colleges require just because they want to go for the arts, the portfolio is an extra piece they have to do, more work, and even more stress – but is it worth it? According to Megan, "This experience and the long hours of writing descriptions over and over again was all worth it. It feels so good to send a portfolio of pieces that I love and that express my point of view and the way I see the world." The risk is worth the reward in her eyes, and the tedious hours pay off when college acceptances return to students.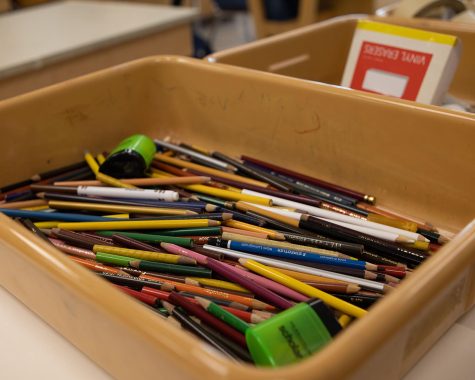 Help Along the Way
Now, art students are not left to complete this portfolio on their own, the art teachers understand the importance of this piece in a college application, and work alongside the students to help them succeed. Ally Sumner ('24), plans on taking their artistic talents through college and describes how their art teacher Mr. Radvany gets them set up for success. "My teacher has been preparing me by pushing me to put forward my best work and teaching me so many things that will help me show colleges what I can do." Although Ally is only a junior, it is never too early to be considering what to add to a portfolio because it is a collection that can date all the way back to their freshman year. 
Most times the requirements of colleges are pieces that students have already made throughout the years, but sometimes new pieces may need to be produced in order to meet the requirements for a certain college. It is nothing to stress over, because colleges offer plenty of time to showcase a student's best work, most of the time, without feeling rushed.
Megan leaves some words of advice for students hesitant about taking this path, because of the different steps that need to be completed in the normal application process: "If anyone is thinking of going for it I encourage it 100%."