Student. Rocker.
Culaba Finds Outlet in The Wackys
Excitement fills the air as the band performs both originals written by their own songwriter and cover songs for an enraptured audience. LED lights are cast across the walls, booming music bounces around the room. Connor pounds the drums to a pulsing rhythm accompanied by Alfred, plucking the strings of his bass. Attendees jump up and down to the beat of the song and sing along. The venue is at full capacity and about to burst. Jay and Jennel provide key chord progressions that captivate listeners. Althea headbangs and reaches out for their mic as an  enraptured audience stands in awe at the raw rock and roll rhythms performed by RMHS' own Althea Culaba ('23) and their band, The Wackys. The Wackys have fulfilled a dream which many teenagers have yet ultimately do not pursue: forming a band. 
Althea Culaba has made music an integral component of their personal identity. While juggling several AP classes, numerous clubs and a job at the Reading Public Library, they also find time to practice with their band. During their free time, Althea often finds themself listening to music on Spotify and singing (or playing) along.
The Wackys consist of Althea handling vocals, Connor on drums, Jay and Jennel playing guitar, and Alfred on bass guitar. They are an alt rock band that performs originals and cover songs as well as music in Tagalog, the spoken language in the Philippines. Alfred and Connor work together to keep everyone else on beat, Jennel and Jay can both be seen providing lead guitar and chord progressions or supporting vocals when needed. Each member compliments one another perfectly, a synergy that can only be developed through close knit bonds and genuine appreciation and understanding of each other.
It all started when Althea and Connor began dating, forming a blossoming relationship. They both became friends with Jay—the band's first guitarist—over the summer. The three of them agreed they wanted to start a band together– this being where most incredible dreams of rock stardom start and end. However Althea's father has his own band—The Tambiotics—and connections in the New England Filipino music scene. With his help, two new band members were brought on: an additional guitarist, Jennel (whose responsibilities also include  "head banging on stage"), and a bassist, Alfred who lives in Maine and studies pre-med at University of New England. Bonds were quickly formed and the five of them became an unstoppable force and inseparable group of friends that dominated the New England Filipino music community.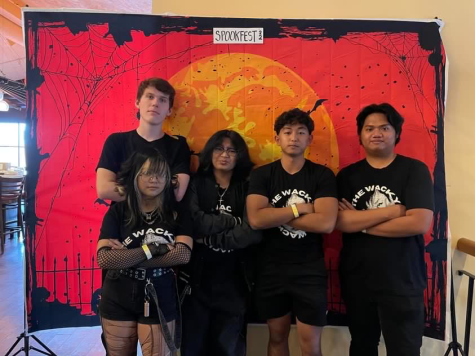 Although many starting bands find it difficult to secure spots to perform, according to Althea, The Wackys had strong support early on. "Because of our connections (and honestly just the generosity of the filo music community in general) we were able to get a venue instantly, which was super lucky and something that we're all very grateful for." Alfred also comments on the opportunities that The Wackys are being afforded, "'Cause of the connections, we might even have opportunities in Maine coming up, aside from strictly being in Mass." The horizons stretch wide for The Wackys and a land of musical opportunity presents itself. 
Practices are both helpful and a great time. As Althea says, "Sometimes we're productive, sometimes we're not , but that's the fun of it. I can't stress how many times Jennel has done the 'Mickey Mouse squeak' into a microphone and just fell into laughter. Sometimes we also just take breaks during practice and just drive somewhere, like it'll be 10pm, and we're all just playing basketball at the High School." A perfect balance of work and play keeps The Wackys relaxed and prepared for their next gig.
Practice is on Fridays at Althea's house, in their basement, typically Connor will arrive at 5:00, Alfred at 5:30, Jennel at 6:00 and Jay "whenever he feels like getting there." During practice The Wackys go over whatever song they're working on at the time, focusing on difficult parts and as a gig date approaches they will start practicing performance of a whole set including multiple songs. For Jay and Alfred, the far drive across state lines is worth it to attend. The band is everything to them.
The Wackys have performed together across multiple events sporting Wackys apparel including Rakenrol Jinglefest, and Spookfest in 2022. If you were there you may have heard Everlong by the Foo Fighters, Smells Like Teen Spirit by Nirvana or original songs including Down To Nowhere, What Did Momma Say?, and Empty. The crowd's roar is deafening yet still drowned out by the powerful sounds of hard rock fed through loud, looming speakers. 
Through it all The Wackys have grown inseparable, performing enthralling and enthusiastic genre bending jams for hundreds of people. According to Althea, "It's not just a band, but a group of friends, nearing family."