Vietnam War Memorial Unveiled
On November 11, Veterans Day, Reading Memorial High School unveiled a new Vietnam War Memorial to honor the former students of Reading who passed away in Vietnam.
This ceremony drew a large crowd to the front of our school, to honor and respect the seven former RMHS students who lost their lives fighting for our country.
Peter Bredbury, Robert Croce, John Hanscom, Michael Havel, Robert Holt, Bruce Parmelee and Edward Putney are the names of the soldiers who sacrificed their lives. Their names will now forever be engraved in the marble statue that so many students will walk by everyday.
The roughly hour long ceremony to unveil the statue had several different speakers, including Vietnam veteran and former Reading teacher and coach Hal Croft. Croft talked about the details of fighting in the war, and focused attention on post-traumatic stress disorder, which is a common challenge that affects most veterans, especially those who fought in battle.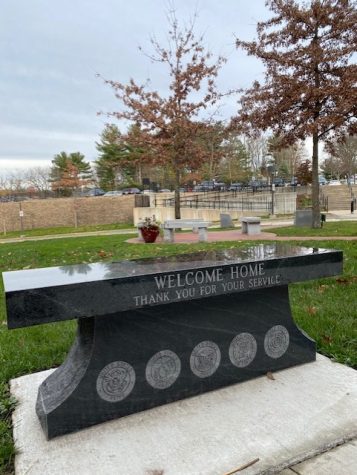 Also speaking was Reading's Head of Veterans Services, Will Valliere. Valliere spoke on the power and meaning that this new memorial has.  "It's history. Today is history," he told the crowd. 
Although there was rain on the forecast, the ceremony still had a big turnout. One of the viewers was RMHS student Carter Learned ('23). Learned explained how he was moved by the ceremony. " The speakers and people who set up the ceremony did a fantastic job. They honored the veterans who survived, and lost their lives in the best way possible. One moment that hit me hard was when the families of the veterans who lost their lives put a flower in front of the memorial to honor their loved ones."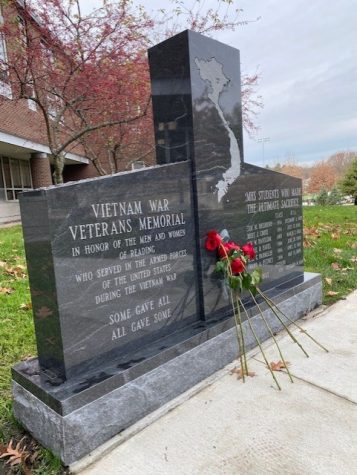 Although the ceremony was to remember and honor the veterans that we lost in the war, the service also took the time to honor surviving veterans. General Jack Hammond, another speaker of the event, took time to hand out Vietnam War pins to all of the current veterans in the crowd.
As the 50 year anniversary to the war is closing in, this statue and monument is a way for the citizens of Reading to honor and remember the brave soldiers who fought and lost their lives in the Vietnam War, and to thank the ones who are still with us for their extreme bravery and willingness to die for our country's freedom.