Student Council's Gotsneakers!
Annual Conservation Drive a Success
The Reading Memorial High School Student Council partnered with gotsneakers.com to host a sneaker drive from November 1st to November 23rd to provide shoes for those in need and raise funds for other student council initiatives.
For the sneaker drive, students could drop unused or unwanted sneakers, regardless of condition, in any RMHS collection bin.  Gotsneakers is a fundraiser program founded in 2016 that helps the community reuse and recycle their sneakers. Since they started, Gotsneakers have stopped 75 million pounds of CO2 from entering the atmosphere and recycled and reused 2.5 million pairs of shoes.  The project keeps sneakers out of landfills, reduces the need for manufacturing new sneakers, provides gently used sneakers for those in need, and contributes to re-purposable recycled material.  Gotsneakers is also a fundraiser, as it pays organizations a small sum for each pair of sneakers collected.
Not only did RMHS participate in this sneaker drive, but other local schools participated as well. Reading public schools, Barrows, Birch Meadow, Coolidge, Joshua Eaton, Killam, Parker, and Wood End also participated in expanding the number of donation sites.
Members of the student council taped posters all over RMHS so everyone could be aware of the sneaker drive. There were even students outside Coolidge Middle School during drop-off asking for donations.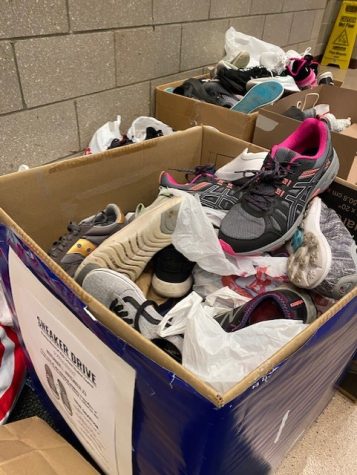 The sneaker drive was a huge success. Volunteers at each school filled their donation boxes to the top. In fact, after the donation boxes were filled to the top, more sneakers were left over that would not fit in the overfilled bins.
"The event went as well as it did because of cooperation and participation from each school. It wouldn't have been successful without the donations from the middle and elementary schools," said student council member and head of the sneaker drive, Kelsey Murphy ('24).
The Student Council has been doing the drive for several years and plans to hold the drive again next year. Every year the drive has been held, it has been a tremendous success.