RMHS Takes on DC
On October 7, 2022 students and chaperones from RMHS embarked on their long awaited journey to Washington DC to further explore their understanding of US history. 
The anticipated trip was first introduced to all grades last fall, but was geared towards juniors and seniors, becoming known as one of the first school trips since Covid-19 hit in March of 2020. The trip, run by history teacher Ms. Bailey was displayed all throughout the school as a way to further students' learning about the history of the United States and its capital. 
Ms. Bailey planned the trip with the pandemic in mind. "Coming out of the pandemic, I think that a lot of people had lost the opportunity to travel," she shared.  "I thought it would be a good opportunity to combine my love of government and civics with the opportunity to take some kids on a trip I thought they might enjoy."
"
I was most excited to see the White House because it interests me a lot…"
— Jessica Pomerantz ('23)
After months of build up for the trip, the time had finally come for the students and chaperones to head for the nation's capital. In total, sixty two students went on the trip, ranging from sophomores to seniors. 
The itinerary included many crucial sights tied to United States history, including war monuments, presidential monuments, museums, and some of the nation's headquarters buildings. The four day trip included multiple jam-packed days starting at around 7:30 AM and ending as late as 9:30 PM. 
Students looked forward to some of the country's most historical sights in the city. Senior Jessica Pomerantz, a student partaking in the trip, stated, "I was most excited to see the White House because it interests me a lot that our president lives there and a lot of important things go on in there." 
With all of the knowledge gained from this trip, students were able to walk out of this trip with more knowledge on the nation's history than they might have had before. Students were also able​​ to gain life experiences through the day to day encounters of the city.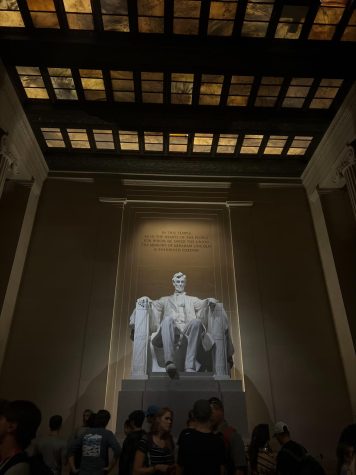 Ms. Bailey said, "I think for some people it was an opportunity to travel away from home for the first time, maybe doing something that was getting back to normal after Covid. For other people I think it was really more about the learning, seeing the museums, and educational opportunities." 
Overall, the trip was a success according to Pomerantz and Bailey, who were both able to learn and experience new things from this excursion. Coming Spring 2023, Ms. Bailey will lead another school trip to London, England and hopes to have the same outcome as this one. 
Ms. Bailey lastly added, "Everyone on the trip got something out of it, but everyone got something different."