Goodbye, Hall Pass. Hello, SmartPass.
New Electronic Pass System Hits RMHS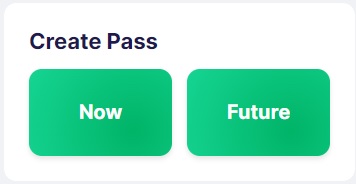 A new electronic pass system replacing paper hall passes called SmartPass began at RMHS on September 26.
SmartPass is a digital form of traditional paper hall passes.  Those who come in late to school will now register in the office using SmartPass, as well. When it comes to leaving class, students can either submit a request for a digital pass which their teacher will fill out electronically or their teacher can make them a pass in the SmartPass system. The system allows teachers to select the student's destination and give them a timeframe for how long they can be away from the classroom.
SmartPass also supplies RMHS faculty with a digital record of their students, telling teachers how many passes a student has received within a certain time frame. It also allows teachers to see how long the students have spent out of class and how many passes of theirs went over the time limit. There is a student pass history that showcases all of their passes, what time they were made, and what location they needed to go to.
"
…we really want to know who is in the hallway just to keep everybody safe"
— Ms. Buckley
The first day using SmartPass one student found himself in an inconvenient situation. "I got a bloody nose and I went up and got some tissues and I asked if I could go to the bathroom… my teacher didn't know if she needed to give me a smart pass, I was going to need to get my computer out and I had blood dripping everywhere so it kind of p***** me off a little bit," said senior Ethan Bean.
SmartPass is still in its early awkward stage for teachers as well. "I feel like at first I did not understand it…. I definitely made a lot of mistakes with it, but just being able to use it myself for a couple days has made it a lot easier," said teacher Ms. Cuevas on getting used to the new system. 
"I feel like it does distract from classroom time a lot because having students have to take out their device, load it up then create the pass takes a lot of time especially if their computer's dead then they have to plug it in and turn it on…. I do think it is helpful just to not have to physically write out passes…. There are some pros and there are some cons to it. There's going to be a learning curve for everybody," Cuevas said. 
There are several reasons RMHS has made the switch to a digital pass system.  "We are using the SmartPass system for a few reasons. One reason is for safety. There have been lots of emergencies that happened in other schools…. there's like stories on the news about how they don't know where all the students are. When we have a situation that happens, we really want to know who is in the hallway just to keep everybody safe," Assistant Principal Ms. Buckley said. 
There is a feature in SmartPass called "encounter prevention" which would prevent certain students from getting passes at the same time to meet during class time. School administration said that they are unsure if they will use this feature. "Maybe for a safety plan or something like that…. Just to keep students safe," Ms. Buckley said.