Reading's Connection to a True Crime Masterpiece
"It was postmarked Reading, Mass…"
In early 1960 a local man recognized an old army buddy in an article about two murderers in Kansas. His next actions led him to be at the center of what later became a national sensation in the form of a renowned piece of journalism–a book that is still regarded as a pioneering example of the ever popular true crime genre.
The book in question? In Cold Blood by Truman Capote.
The man? Don Cullivan of Putnam Road in Reading, Massachusetts.
Although Mr. Cullivan is only a minor player in the book, his involvement is a fascinating and relatively unknown Reading fact.
In Cold Blood
In Cold Blood is a nonfiction book that tells the story of the tragic murders of the Clutter family that happened in Kansas in 1959. It alternates between perspectives of the family members during their last days alive and their murderers, Richard "Dick" Hickock and Perry Smith. The book also goes into detail about what Dick Hickock and Perry Smith did after they committed their crime and until their executions in 1965. Originally, the book was published as a four-part series in the New Yorker in 1965, and then was published as a book in 1966. The author, Truman Capote, spent a lot of time interviewing the criminals, especially Mr. Smith, in order to write this book. The book was a best-seller and was adapted into a film.  Time magazine rates it as the second best nonfiction book of all time.
The town of Reading enters the story in Part IV, when Capote writes, "But then one mid-February morning Perry received a letter.  It was postmarked Reading, Mass…".  The letter in question was from Mr. Cullivan.  It contains more than 700 words and is published in full in the book.  It begins, "Dear Perry, I was sorry to hear about the trouble you are in and I decided to write and let you know that I remember you and would like to help you in any way that I can."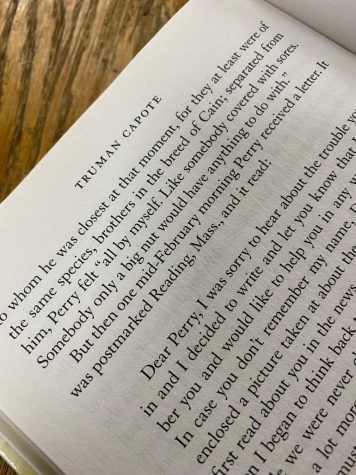 Mr. Cullivan 
According to a Daily Times Chronicle article published in February 1966 ("Former Reading Resident Key Character In Best Seller"; subtitled, "Yes, There Is A Don Cullivan"), Mr. Cullivan was not known by many in Reading. In fact, after the book that included his name and town of residence became a sensation, many were questioning whether Don Cullivan was a real person or not.  However in the article it was noted that some may have known him as the man who had previously gone to the Board of Public Works meetings in 1961 and 1962 seemingly without any purpose. The article points out that later in 1962, he did end up running as a candidate for the Board of Public Works but ended up losing to Fred Kenney. He was also elected to Town Meeting in the same year. Shortly after in 1963–three years before the book's publication–Mr. Cullivan moved from Reading to South America. 
The 1966 article does not quote Mr. Cullivan, but it does recount his involvement in the trial as explained in the book. When Mr. Cullivan saw the picture of Perry Smith, he knew he had to write a letter. After the letter was sent, he received a phone call from Mr. Smith's lawyer asking him to be a character witness for Mr. Smith.  Speaking to filmmakers for the 2017 miniseries Cold Blooded: The Clutter Family Murders, Mr. Cullivan said, "I felt this was a man who really needed help." In the book, Mr. Cullivan explains that his desire to go to Kansas was a shock to those close to him, but something he had to do. Capote quotes him as saying, "My wife doesn't understand it either.  Coming out here was something I couldn't afford to do-it meant using a week of my vacation, and money we really need for other things. On the other hand, it was something I couldn't afford not to do."
Mr. Cullivan at the Trial 
After making the journey to Kansas, Mr. Cullivan met with Mr. Smith in his cell at the Finney County Courthouse. Here, Mr. Smith told him the graphic details about the murders he and Mr. Hickock had committed. In an interview included in Cold Blooded, Mr. Cullivan recounted the moment that Mr. Smith finished retelling his story about the murders.  "He snickered, and then immediately said, 'It's a terrible thing to be laughing about this, but I had no feelings of anything, no feelings for them.'" Mr. Cullivan found that most shocking of all and told the filmmakers, "It was hard to take." 
As a character witness, Mr. Cullivan ended up sitting next to Mr. Smith for the entire trial. He remembered the courtroom was completely packed and there were many people who just couldn't get in. When he was called to the witness stand, all he was able to say was that when he met Mr. Smith in the army, he thought that he was a likable fellow. However, this was all he was able to say as he was dismissed when his statement was objected to as not pertaining to the case.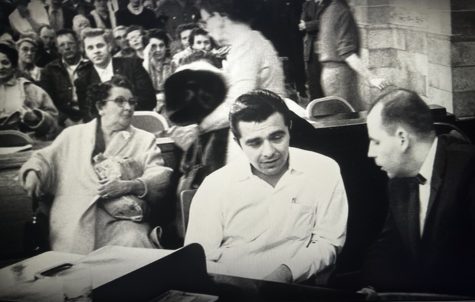 Mr. Cullivan stayed for the rest of the trial and until the jury had made their final decision. The whole jury had voted for death by hanging. Mr. Cullivan saw Mr. Smith for one last time.  He remembered seeing Mr. Smith with a big grin on his face.  According to Mr. Cullivan's account in Cold Blooded, Mr. Smith said, "Well…I guess I better start my neck stretching exercises." Mr. Cullivan then told the filmmakers, "The grin disappeared, his head dropped, and mine dropped. We reached.  We were holding each other's hands through the grate, and then I think we both cried at that point and said goodbye." Mr. Cullivan then walked downstairs and caught a bus to go home. He continued corresponding with Mr. Smith up until Mr. Smith's execution in 1965.  
Mr. Cullivan and Truman Capote
Not only did Mr. Cullivan find himself inserted into the middle of a murder trial, he also happened to be surrounded by a small group prominent people which included Truman Capote, Mr. Capote's childhood best friend Harper Lee, author of To Kill a Mockingbird, and famed photographer Richard Avedon.  Although he mentioned in an interview with the Vineyard Gazette  in 2015 that he thought Ms. Lee was "not a pleasant person," Mr. Cullivan said that he and Mr. Capote hit it off as soon as the writer first introduced himself. Mr. Cullivan also remembered a time when Mr. Capote invited him to his hotel room to discuss what would later become In Cold Blood. He described Mr. Capote as, "just a walking circus," and still keeps some of the letters written by Mr. Capote. 
Mr. Cullivan Today 
Although not much is known about where Mr. Cullivan spends his days now, an RMHS teacher was able to briefly correspond with him in 2019. Mr. McSweeney of the English department wrote to Mr. Cullivan addressing his amazement about finding this pretty unknown Reading fact. Mr. McSweeney said, "When I was able to correspond with him, that was a real unexpected treat, and it turned out that he was enthusiastic about talking about it, and he recognizes the significance of In Cold Blood in American culture." They wrote each other a couple of emails where Mr. Cullivan said although he doesn't often respond to emails, he didn't mind writing to an "old Reading resident." He also mentioned that at the time of the murders, he had lived in a house that he and his dad had built on Putnam Road (he named the house number), before moving to Brazil to work for the US Agency for International Development. Lastly he said that he was currently living in Woburn, which he called "the city of my birth."
In Cold Blood at RMHS
This year, In Cold Blood was read as part of the second semester Honors Journalism class's introduction to Feature Writing. A student of this class, Alex Shikhanovich ('22) said, "Reading is generally off the radar, so I was interested to see how such a critical work of American literature incorporated our small Massachusetts town."
It's interesting how such a well known book includes a fact that is so unknown to Reading residents, especially RMHS students.