Cooper Hits Two-Month Mark
Checking in on our comfort dog
It has been two months since RMHS welcomed its newest community member:  Cooper the comfort dog.
 The first day he came to the school, it was like a celebrity had visited. Everyone is still talking about how cute he is. From my experience, whenever I spot him in the hallway, he seems to have a group all swarming around him to get the best view of the new dog. Yet the question is has his presence changed the normal stress level at RMHS already? How much of a difference has one little puppy created in such a small amount of time at RMHS?
What many students need right now is some stress relief, especially for the junior class.  A junior student Nicole O'Sullivan said, "I love seeing Cooper in school, especially this year after tests and exams. Watching him play or literally napping is honestly pretty relieving. When I sit and play with him for a minute It doesn't even feel like I'm still at school, which has been so nice a difference from before he has come to our school."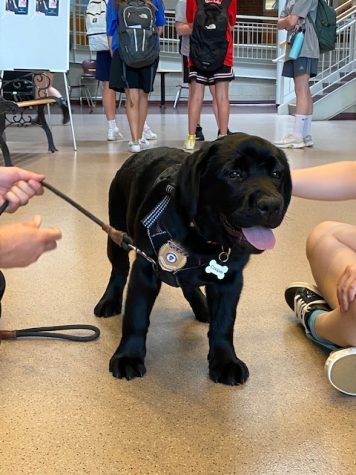 When asked about Cooper's impact as well as what she sees Cooper doing in terms of helping students, Assistant Principal Ms. Buckley replied, "I think he has made people happy because I see a lot of kids smiling and greeting him and petting him when they walk in the door in the morning. I think Copper can be utilized when a student is having a difficult time, emotionally or going through a situation. Cooper can be brought in to help students feel more comfortable in school."
Although Cooper has not been here long, he has seemed to make positive changes to RMHS and will continue to brighten students' days for years to come.
Visit our features page for in-depth reporting on the people, places, and events that define RMHS and the Reading community.