"There is something here for everyone": RAA Art Show A Success
Dressed in a neat button-down shirt, he sat quietly with a sketching pencil and moved his wrist continuously in a vertical motion to perfect his portrait. Meanwhile, there were viewers wandering around the room and their eyes sparkled as they were appreciating the masterpieces.
You might be surprised to find out that this scene of an artist and beautiful art work took place right here in Reading.
May 6th and May 7th marked the 61st anniversary of the Reading Art Association Spring Art Show and Sale at the First Congregational Church located on the corner of Woburn Street and Sanborn Street.
In 1958, Gene English founded the Reading Art Association (RAA) to strengthen the arts in Reading, Massachusetts. The RAA promotes Spring and Fall Art Shows where artists from surrounding towns submit their artwork to be evaluated by professional judges. At the show, everyone is welcome to come together and buy artwork if they choose to. The money is then used to support the Reading community in different ways. This includes donating to the Reading Scholarship Fund, books to the Reading Public Library, and buying seasonal passes for members and nonmembers to the Boston Museum of Fine Arts.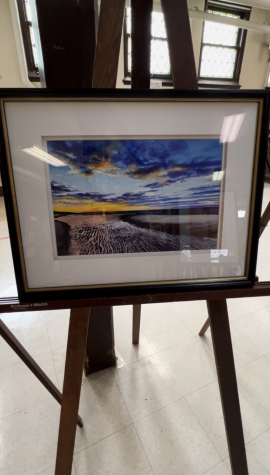 The President of the RAA
Mr. Corbett, the President of the Reading Art Association of which he has been part for about 10 years, said, "The organization is growing. Every year we get new members so the organization itself is growing. The talent is becoming more and more professional. So I do feel that we have a long history and tradition and I feel that that is still vibrant today."
Thinking about the Art Show, Mr. Corbett states, "I think it was very successful. So on a normal show, we have about 120 pieces.  Right now we currently have a little over 50 which is about half considering the pandemic and everything. I think it was a very successful show. We had professional judges come in, we had 3 professional art judges come in and judge the work."
An Artist Who Was Once an Elementary Teacher 
Ms. Kelloway has been participating in the Art Show for about six years. Ms. Kelloway said, "I have retired from my job, I retired from teaching. I was at home, and I was just doing nothing. I've always wanted to paint and so that's why I decided to take lessons and the rest is history. I find it very relaxing."
"
I've always wanted to paint and so that's why I decided to take lessons and the rest is history. I find it very relaxing.
Reflecting back on her thoughts during submission, Ms. Kelloway said, "Not nervous at all, but in the beginning, when it was my very first time when I did it, which was like six years ago I was overwhelmed by the talent and I don't have that kind of talent, I really don't, I admit it. I just do it for fun and I was like 'Oh my god I can't put my work in here, look at some of these people have really professionals.' But, I've learned since then, that it doesn't matter, it's just for fun and I do improve every year and I'm proud of myself. I'm improving every year so that's a plus."
An Audience Member of 40 Years
Ms. Simmons is someone who has been a long-time audience member of the Art Show. Ms. Simmons said, "I have been coming to this Art Show for probably 40 years and have bought paintings in the past and like to support local organizations so I've moved from Reading but I had a special reason to come …I just enjoyed the art."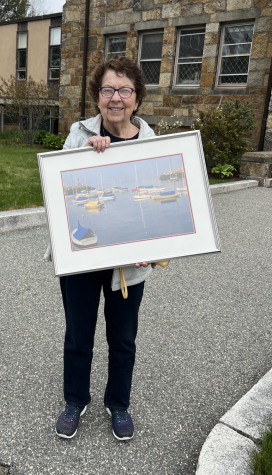 Ms. Simmons also shared, "My grandkids call me Mimi, so I bought Mimi's Florals [a piece of artwork]. It was $200."
An Audience Member of 15 Years
Ms. Downey is a woman who always tries to attend both the spring and fall shows. Ms. Downey said, "Well with the COVID, it's definitely a smaller show but I'm grateful that they're back and I went to the one in the fall and it was quite a bit smaller and this one definitely had more paintings. It's just nice. The only thing that they didn't do which I understand that they would do, sort of like the MFA does, they match a picture with a flower arrangement. The Garden Club would do that and that was kind of cool to see what they interpreted the picture with the flowers. But it's just amazing the talent there is just around this area."
A New Art Show Visitor
Ms. Raine is someone who never attends art shows. Ms. Raine said, "I know someone who has something [a painting] in the show and because she came by and reminded me. I don't usually do things like this, which is too bad."
"
I just had a lot of fun walking around and I saw three friends that I didn't know were gonna be here. It was a fun time.
Ms. Raine also shared that she would come to future art shows and she said, "I am so impressed with how good everything was. But mostly, that everything was so different, different subjects, different mediums, different sizes. I mean there is something here for everyone. There was a lot of [art] where I just went 'wow' and some that were very interesting and there were others that were just beautiful. The gentleman that was just doing whatever, he's working with pencil and doing a portrait and I have to say 'Oh my god!' because that looked like a person. Just by looking at it [the portrait], I just couldn't understand, the nose was perfect, the eyes were perfect, everything was perfect. I loved it, it was fun and it was free! A lot of the stuff [artwork] was expensive according to me but there are other things that weren't as expensive. I just had a lot of fun walking around and I saw three friends that I didn't know were gonna be here. It was a fun time."
Even though COVID hit, the RAA was still able to successfully put up a Spring Art Show and feature creative artworks. The RAA board members will soon be working on preparing their Fall Art Show.