Dandilyons Opens Early
Local Favorite Survived Pandemic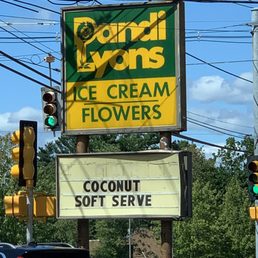 Over February break, Reading's Dandilyons ice cream store opened its slide window and officially kicked off ice cream season in hopes of bringing a sense of community back to the town after facing several challenges over the past couple years.
Since 2001 (and earlier under different ownership),  Dandilyons has been a favorite destination for cold treats during New England's hot and humid summers. But like many other small businesses, this local store faced many setbacks during the COVID-19 pandemic including loss of customers, employees, and wages.
Manager Mark Maselli explained how he and his employees had to adapt to the situation to keep business flowing. For example, they began accepting credit cards, when the store previously only accepted cash, to help avoid constant contact with cash. They also had to create a takeout and call-in system which had been difficult to organize and forced the store to close down for several days. "We also had to have more people. It cost more to run because now we had to have people answer the phone, doing the computer, making the orders, picking up your order, so we spent more wages-wise, running all that, and then had trouble sometimes getting employees." But after a long period of adjustment, Mr. Maselli's hopes grew as people gradually returned to their 'somewhat normal' lives. "It was actually kind of busy because people were home, nobody went to work, the kids were home with their parents… so we were doing a lot of take out. We were doing more take out than people coming to the window."
"
I think it's after the past year, with all the COVID stuff, that people enjoy the opportunity to come out and do something that they used to do…"
— Mark Maselli, Manager of Dandilyons
On top of the difficulties brought on by the pandemic, Dandilyons faced a short-term competition with Cal's Creamery, Reading's new ice cream store that opened last May. Mr. Maselli grew worried when the new store first opened as business slowed greatly at Dandilyons. But it soon evened out again and made Dandilyons even better because the varying products they had made them more competitive. Neighboring ice cream stores such as Richardson's and Dairy Queen have always served as competition, but Dandilyons still remains Reading's number one on people's go-to list. According the 124 RMHS students who responded to a recent survey, 64% of students prefer Dandilyons over all other ice cream stores in the area due to its inexpensive prices, better flavors, and proximity to home.
Despite these challenges, Dandilyons never lost the charm it has had on the Reading community. The ice cream store cares deeply about its customers and strives to render a sense of connection. "All of our employees try to make a connection with each customer.  It's very personal and we try to make conversation with them," said co-worker Emily Martell ('22) who has been working there for almost two years. 
Dandilyons works hard to keep customers satisfied and put a smile on people's faces. "I'm always in a good mood after I go there. I love that they have an Instagram page that allows them to be involved in the community," shared student Kristin Leyne ('22) who loves to stop by for a cone. "You can tell that they really care about their customers."
By opening the store early this year, Mr. Maselli hoped to raise people's spirits and make them feel as if summer was already on its way. "I think it's after the past year, with all the COVID stuff, that people enjoy the opportunity to come out and do something that they used to do back in the day."