GSA Regional Meeting Coming to RMHS
Would you have interest in spending a school day with like-minded people in a safe environment?
For the past few months Massachusetts Gender Sexuality Alliances (GSAs) have been hosting regional meetings. Groups from all around the state come together at the hosting high school to learn, talk, and most importantly have fun. For students who don't have the time to commit to the weekly after-school GSA meetings, the regional meetings are held during the school day. It is treated like a field trip, excused absence and all. RMHS is hosting on Wednesday, April 6th.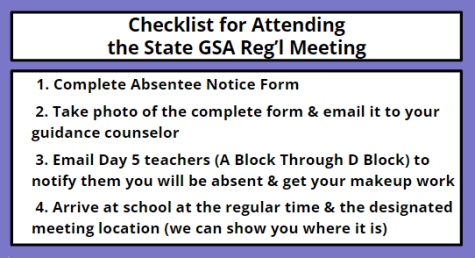 Run by the Massachusetts state LGBTQ+ Youth Council, the goal of regional meetings is to strengthen the queer community and have a safe space to talk about our experiences–share stories and feel safe somewhere. Since the legalization of gay marriage federally across the USA in 2015, according to PFlag hate crime statistics, discrimination based on sexual orientation has dropped, but anti-trans hate crimes have risen. Anyone who is openly queer is no stranger to hatred. While it will take time, GSAs across the world aim to end discrimination based on sexuality and gender. Until this change is everywhere, comfortable spaces are important. The regional meetings are just that– somewhere to be yourself, try out a new name, new pronouns, and anything else safe and appropriate for the school environment. 
Previous regional meetings have been held on Zoom and at high schools across Massachusetts. Overall students had a blast, "It was a great experience and I had so much fun!" said Sophia Ortins ('23) of her experience at a regional meeting.
The meeting will be held from 9:00 am to 1:00 pm.  Students who choose to attend will miss blocks A-D. Lunch will be provided. To sign up, reach out to Ms. Burke at [email protected] or in our RMHS library for a permission slip. Permission slips are due before Wednesday morning. Please make sure to complete the form and send it to your guidance counselor. Please also email your teachers about your absence. If you would like to supply decorations,  snacks, or other goodies. Reach out to Ms. Burke. The RMHS GSA is excited to host this month and can't wait!