Pajama Pants A New Fashion Trend at RMHS
There clearly have been changes in high school students over the years. With new technological advancements at our fingertips and a rapidly changing world around us, it is no surprise that high school students and the academic atmosphere  look different from years previous. At the moment, one surprising change that is slowly infiltrating and making a permanent home in high schools: pajama pants. 
It is tough to pinpoint when teenagers started to put down the denim and pick up the flannels. Maybe they are cutting out an unnecessary part of their day, and are actually time-management geniuses calculating the most efficient things to put effort into. Or maybe–is this the new fashion? Like the events leading up to a blizzard, more and more flannel pajama bottoms are spotted everyday and now blanket the halls of the school. 
This observation goes beyond the walls of Reading High. This national phenomenon has been recognized by the Wall Street Journal and the Guardian as well as other news outlets such as Elle Magazine, which have even been covering how to style the new fashion. I took it to the pajama wearers themselves to ask about the new sleepwear-turned-daywear.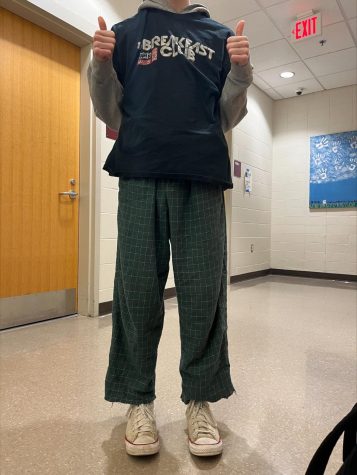 Timmy Duggan ('23), an avid participant in sporting flannel pj pants at school had this to say: "I would encourage everyone to start incorporating pjs into their school outfits. I love it and work best when I'm comfortable, and if that means pj's it's pj's. School is already stressful enough, nobody cares what you're wearing." It appears as though the growing trend has encouraged more and more to join, with a leading persuasive element of comfort. Gaining a larger fandom as the years progress, the pajamas may be here to stay. 
So maybe the themed pj day dedicated to dressing down has lost all its purpose and could be viewed to a lot of students as just another Friday in the office. They said to take the transition back to school at a slow and comfortable pace, and to that we definitely listened.