RMHS Welcomes First-Ever Comfort Dog
As part of a new tool for community policing in the Reading Public Schools, RMHS is set to welcome a comfort dog beginning the week of March 21st.
Over the past few years, there has been an increase in the addition of therapy dogs to police departments and schools across the nation. Otherwise referred to as community dogs or comfort dogs, the trained pets have been found to reduce physiological symptoms of stress through lowering cortisol levels and increasing positive emotion according to a research study conducted by Monash University. Given the spike in mental-health-related calls within Reading over the past two years, School Resource Officers Brian Lewis and Matthew Vatcher have been developing the initiative since June of 2021. Among many things, the program is intended to break down barriers between the community and the police, and serve as a way to connect with those who struggle with mental health issues.
Two dogs have been donated by the New Hampshire-based breeder Boonefield Labradors for use in the Reading Public Schools. Both Officer Lewis and Officer Vatcher will have a dog to accompany them during the work week and reside with their families outside of school. For Officer Vatcher this will include traveling between the various middle and elementary schools. Officer Lewis, who primarily works at RMHS, will have the black lab puppy with him during the day shift, or from 7:00 AM to 3:00 PM Monday through Friday. However, this schedule is subject to change.
"
I think a dog breaks down a lot of barriers for people, and sometimes students just need that extra one thing that can just get them through the day."
— Officer Lewis
In an interview conducted on March 15th, Officer Lewis affirmed that there is more in mind for the puppy than only assisting in the schools. "We're also going to be available for things that happen outside the school, like traumatic events," he explained. In situations ranging from a family dealing with a house fire to an individual that is nervous to go to court, he hopes the dog will be able to provide assistance whenever possible. The dogs will receive supportive and behavioral training through the Alliance of Therapy Dogs. In accordance with state guidelines, they will not be certified until they reach one year old.
Alongside the Director of the Reading Coalition for Prevention and Support Ms. Erica McNamara, the Reading Police Department has addressed several concerns. In preparation for the puppies' arrival, they have considered the logistics of allergies, fear of dogs, and specialized police cruisers. Officer Lewis elaborated that there has been an allergy form sent out to students' parents regarding the comfort dog as well as a letter conveying their approach to students with a fear of dogs. "We also reached out to parents in a letter saying that we would work with them to maybe help their child ease their fears," he elucidated. Further, two RPD cruisers have been specially equipped with heat sensors and cages to accommodate the canines. "So if it gets too hot inside the car, it rolls the window down, turns the fan on- we have got to make sure the dogs are comfortable," Officer Lewis said.
The dog will also be available for special events such as prom and graduation, where it is anticipated students will request his presence. Overall, the puppy is intended to bring an extra sense of comfort to students' everyday lives, especially given the stressors of the Covid-19 pandemic. "I think a dog breaks down a lot of barriers for people, and sometimes students just need that extra one thing that can just get them through the day," Officer Lewis commented. "And I think, you know, maybe if we have a dog here, whether it's a dog or a certain teacher that they look forward to seeing, I think it is going to have a positive impact."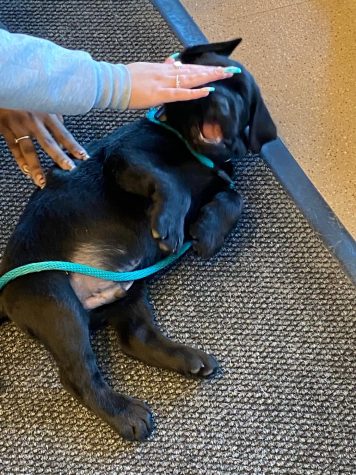 Ms. McNamara remarked that there are already plans for the upcoming school year involving the dog. "I know that when we do mental health first aid in the eleventh-grade classrooms next year we will be having the puppy come," she relayed. "We talk about some tough subjects, so I think that's the thing, is it's kind of like an icebreaker, having the puppy around."
To further community involvement in this initiative, Officer Lewis asked RMHS students for help choosing a name for the puppy. After receiving two hundred and twenty-five name suggestions, RMHS will welcome its first-ever comfort dog, Cooper.
Visit The Orbit online for a wealth of news from RMHS.