Malley A Rocket Hoop Great
Senior Closing In on 1,000 Points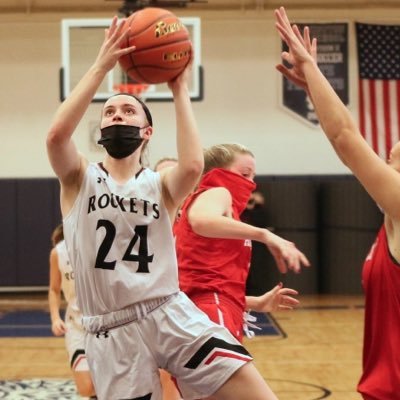 Record destroyer  Jackie Malley ('22) is on her way to 1,000 points scored for the girls baketball team.
Jackie is regularly scoring twenty-plus points a game this year and has been a starting varsity player since her freshman year. With an entire 12 games left in the season, Malley only has to score 109 more points to reach the goal of 1000 points.
Malley started playing basketball competitively in sixth grade. She had played hockey up until then, but after years of playing pickup basketball in her driveway with her siblings and dad, she was interested in playing on a real team and joined the sixth-grade team. A former teammate Lily Zampitella stated, "I played basketball with Jackie from grades six to eight, she is a great motivator and team player and has a great vision of the court. She is a selfless player and knows when to have fun and when to take things seriously. I'm very excited for her to make 1, 000 points. I played with her for many years. We were like sidekicks and it's exciting to see how much she's grown and improved."
"
Jackie is one of the most hard-working and determined people I know."
— Kendall Sundstrom ('22)
At the end of last season, Jackie was voted one of two captains along with senior Kendall Sundstrom. Sundstrom is excited for her fellow captain.  "Jackie is one of the most hard-working and determined people I know. Every single day at practice she always goes her hardest and encourages others to do their best too. I'm so excited that she is going to hit 1,000 points because she truly deserves it, being the great teammate and player she is." 
 Jackie is very popular among peers and is widely known at RMHS as a great basketball player. Her teammates admire her work ethic. Sophomore teammate Brooke Pulpi stated, "Jackie is very kind and cares about the team. She is very supportive of everyone and loves to see when people succeed. She is always encouraging us. She is always positive and always has a smile on her face. She is a phenomenal player. Even though she is so close to her 1000 points, she still wants to see everyone else succeed and gives up opportunities to see others score. She deserves it because she worked extremely hard all year round."
Jackie's sister Jess Malley (23') stated, "Jackie is a great leader and is very devoted to the game. She is always looking to improve and sets an example for others to do the same. Getting the 1000 points would be a great reward for all of the hard work she has put in over the years." It is quite obvious from the reactions of her teammates that she is a very persevering person and a strong leader for her team. Teammates Katie Hurley (23') expresses her thoughts: "Jackie is one of the best leaders I have had on a team. She doesn't settle for anything.  She always pushes herself and her teammates to be the best they can be. She deserves the recognition for reaching 1000 career points because she has worked hard for every one of them."
"
I am so honored to have my name on lists with some of the best RMHS girls basketball players…"
— Jackie Malley ('22)
Jackie is very grateful for all the opportunities she's been given throughout the years.  "I am very proud of what I have been able to accomplish in high school basketball," she said.  "I am so honored to have my name on lists with some of the best RMHS girls basketball players to come through the school. At the same time, it has been a humbling experience because it hasn't always been an easy road. Constantly growing and improving as a player is one of my biggest motivators, and while I am approaching some milestones, I am very grateful for the opportunities I have had and my support system. We are 5-3 right now, and I am very excited to see what our team will accomplish this season!"
Next year Jackie will continue playing for St. Lawrence University.