James Murphy Re-Writes Record Books
Quarterback Has A Whole Season In Front of Him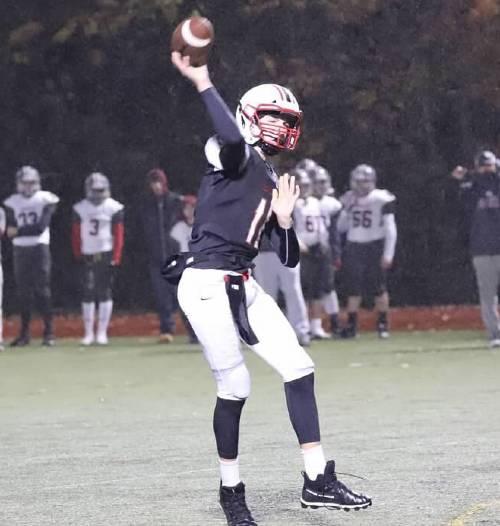 As the bright lights of a Friday night and the intensity of his teammates surround him, he throws a laser beam straight into the hands of his receiver for the touchdown. This is simply another day in the office for star Reading quarterback, James Murphy. At 17, Murphy has just completed his third season after bursting onto the scene as the starting signal caller for the Rockets as a freshman. The team is known as one of the best in all of Massachusetts, thanks in no small part, to James. 
With the pace he has set for himself, Murphy is bound to be playing on Saturdays against the best competition in the country after he graduates. 
Standout Accomplishments as a Rocket 
Murphy's career as a quarterback started in elementary school. At this time, he had not yet even strapped on the pads of tackle football. Rather, he developed his fundamental skills as a field general on the flag football field. He did this with the help of his father Jim, who starred at Northeastern and even played for the Patriots.  From the very beginning James learned from the best. After this, Murphy became a seasoned veteran of Reading Pop Warner. A distinction of his rapidly developing skill can be found during his seventh grade year, when he led Reading's "C" team to a championship win.
Following this, Murphy finished out his Pop Warner days during his eighth grade year, again as the starting quarterback. With his skills finely tuned, he was more than ready to compete at the high school level. To mention that James has simply been a starter since his freshman year would be a disservice to what he has already accomplished as a Rocket. With one year to spare, Murphy has already broken the school record for touchdown passes, previously set by Drew Belcher (D1 commit to UMaine). In addition to this, he also broke the school's passing yards record. If this wasn't enough, he now holds the record for passing touchdowns in one game (5), which he shares with former Harvard star Chris Pizzotti. 
To finish off this bombardment of achievements, Murphy led the Rockets to a Middlesex League Liberty Division title. The team's 2021 success would come to a halt against #1 ranked Catholic Memorial. Winning a state championship is the ultimate goal of the young gunslinger while at Reading.
Hard Work Inside and Out of the Classroom
Being a high profile athlete like Murphy requires you to also be focused on life outside of football. James understands this, and executes accordingly. With a 3.6 GPA, he is a standout student just like he is a player. His favorite class is with science teacher Ms. Cambra. With all the buzz surrounding Murphy's actions on the field, it is important to know the kind of peer he is too, and Ms. Cambra can definitely speak to that. 
"I would say that he is a hard worker and very responsible. He makes a point of trying to include everyone in the class. He actually helps with a freshman class right now.  He makes sure the kids feel included in the classroom, and checks in with them."
His compassion does not diminish from his will to win. Ms. Cambra also made a point of saying, "He is not aggressive, but he is competitive. If we're playing a game in class, he definitely wants to win. I think that he feels the same way about his classwork, which I think really drives him to do well." 
The work ethic Murphy possesses in the classroom allows his grades, and his game to shine like few others.
"
If we're playing a game in class, he definitely wants to win. I think that he feels the same way about his classwork, which I think really drives him to do well."
— Ms. Cambra, Biology Teacher
When he isn't improving his skills at high school football practice, or doing school work, you can find James working with coach Mike McCarthy, owner of M2 QB academy. This premier program for developing quarterbacks is one of the main factors Murphy mentioned in his success.
James had nothing but good things to say about McCarthy, expressing his appreciation for the coach's familiarity with the more modern aspects in the life of a football player.  "Coach Mike does a really good job; he runs a really good program. Not only does he train the quarterbacks, but also promotes them, giving us confidence and putting us on social media which has helped a lot with the recruiting process. I think he runs a really tight program.  We're all really close as quarterbacks, and congratulate each other when we win awards. It's a very tight knit community." 
The academy also puts out social media posts requesting high school/collegiate receivers to attend sessions. This gives quarterbacks like James the most game-like scenarios possible in a practice setting. His ability to balance work at M2, studying, and high school sports is something that will bring him great success at the next level. 
The Recruiting Process and Progress of James 
With the COVID-19 pandemic being as stubborn as James is to throw an interception, the state of the college recruitment process across all sports has had to adapt accordingly. A main factor of this would be the increased utilization of virtual tours. This method of recruiting cuts out the costs of hotels and travel. The use of technology has made some athletes more accessible than usual. 
According to an article by the Tampa Bay Times, the former coach of the Florida Gators football team, Dan Mullen, wonders if you still need to send assistants to scout players at all anymore. However, less in person observance can make it difficult to get a sense of the type of skill and potential a recruit has. Seeing facilities, fields, and coaches are all more difficult because of the virus.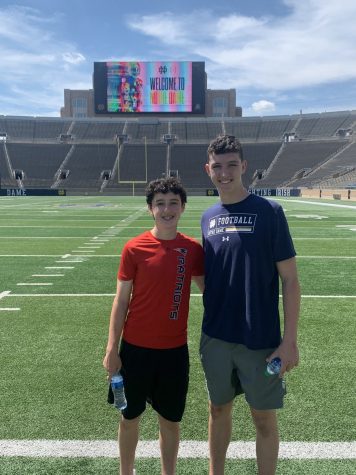 As for Murphy, he will not jump off the page at first glance when you search his name on the internet. In fact, he may not be on the page at all. He is unranked on major recruiting services like Rivals and ESPN. To suggest that this means Murphy is not a serious recruit for some of the top college football teams in the nation would be wrong. The signal caller has been as committed as anyone to recruitment, despite the mentioned challenges that present themselves in the process from the pandemic.
"I haven't taken any virtual tours.  I have taken some in person tours, like at Notre Dame, Alabama, and Harvard. The coaches have been great. I think if you're a top recruit, or not even on their board, they treat you with the same respect as they would their top guy, especially if they're not recruiting you. They keep it honest with you, they tell you how you're looking, and I really appreciate that." 
You may think James' teammates are concerned about their QB's lack of national ranking, but they're far from it, "No. We all know what he is capable of, and that he can, and will succeed at the next level. I knew he was different when he started as a freshman. The ball just comes out different," senior lineman Dan Robinson said.
He is a long way off from needing to commit, but Murphy is grateful to already have interest from some intriguing schools, "I'm trying to keep all of my options open, but I met with Coach Lamb (Harvard), and I really like that program. My dream school is Notre Dame.  Those two are definitely up there at the top." 
It is no secret that the Fighting Irish has long been a goal of James'. With his mother Allison being an alumni, you can often find James touting their gear on the field and around the hallways. 
Continued Development 
As James came into his freshman year, he had unbelievable amounts of raw potential. He had a cannon for an arm, and could read the field and defense like he was a senior. 
RMHS head football coach John Fiore understands more than anyone how it's helped the team to have a quarterback who is in complete control of the offense.  "We've been able to trust him to make a lot of decisions on the field, and have a lot of input in the week because he is so invested in the team's success, and so invested in understanding the game at all levels and positions. He's earned our trust and respect, and we feel very confident with garnering him with decisions on the field." 
Mr. Fiore believes that when the coaches seem invisible on the sidelines, that is the ultimate goal. Murphy is able to make this a reality, as much as anyone the veteran coach has ever seen.
"
We've been able to trust him to make a lot of decisions on the field…because he is so invested in the team's success."
— Coach Fiore
In addition to being a coach's dream when it comes to leading the Rockets, Murphy has worked extremely hard to add a new aspect to his game. "I definitely think about my mobility. That's something I really try to work on at M2, especially my movement in the pocket and footwork. Athletic Evolution in the summer has helped me get faster. I didn't have many rushing yards my freshman year, and I've tried really hard to get that up, and it's been improving the last few years."
Murphy's mobility has not gone without notice. Rather than have to throw the ball away when under pressure, this past year he was able to get out of the pocket and use his feet as a secondary weapon. 
The importance that those around James have put on his mobility was evident even during the broadcasting of the team's games. His father, offering commentary during one broadcast,  clarified the expectations for his son: "He's not allowed to slide until he runs some people over."
This was directly after the stud was able to truck a defender to convert a huge fourth down. 
As for Coach Fiore, he believes that James' anticipation when throwing, and overall muscle size, has developed tremendously since freshman year. He also noted that his understanding of the game has increased significantly. 
Murphy anxiously awaits his senior year and the continuation of his recruitment. There is no doubt from anyone in this town that this kid will go as far as he wants to.