A Championship Season for Marching Band & Color Guard
On Sunday October 31st at Reading's Hollingsworth Field, the RMHS Rocket Marching Band was ecstatic and proud after winning their first state championship in program history.
The RMHS Rocket Marching Band achieved a record-breaking accomplishment in winning their first state championship ever. They were so excited to have been able to accomplish this, after defeating 20+ teams that they were against. The band worked hard this year and really felt their work had paid off and was recognized. Members and band director expressed that what matters most to them is that they did their best.  The win was a nice touch, but it was not the most important aspect to come out of that day. 
Members of the Band were so proud of their achievement and were not afraid to show it on the field. "You know there are pictures of us just being completely elated," expressed Pete Koster ('22). Teammate Dionysios Georgopoulos ('22) expressed a similar feeling. "Seeing the picture of everyone in the band including some of the staff was great. You could hear the excitement." After a long season, it was nice to have their hard work be recognized.  "It was good, it was exciting. We worked really hard, so it felt good that we won in the end," said Evan Kerr ('22).
"
We try not to put too much stress on winning, it's about always doing your best."
— Mr. Mulligan
Band Director, Mr.Mulligan, expressed that what matters the most to him is not the win itself, but rather that the team did their best and had fun doing it. "It's all about that feeling you have when you come off the field, do you know if you performed well, yes or no? If you did, great. If you didn't, then you didn't and you need to do better next time. So yes it is great for the students to see them have all this work pay off. But we also don't want them to think that if you don't win then it's not worth playing. Yes you want to win, but just because you didn't doesn't mean you didn't have a great season.You cannot control how other people do so we try not to put too much stress on winning, it's about always doing your best." Mulligan deals with this similar struggle that most coaches face at the highschool level, at which point does winning really matter.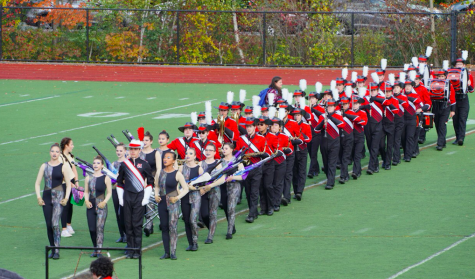 The band's transition from a covid-season last year was smooth and went a lot better than they expected. Georgopoulos said, "It was a much smoother transition than I thought it would be considering that last season was very different since we had to be 10 feet apart."  Mulligan said that it was hard because last year things were so irregular and they did not have competitions which lead to both the freshmen and sophomore class this year being new to competitions. "Even though they had done it they had never competed and that is a whole other situation. So it was a good problem to have because there were a lot of kids that were new to it. But it was also difficult but it kept people going." 
There have been changes to the requirements for being in the band that had a profound effect on the band's performance at competitions. According to Mr. Mulligan, "About 7 years ago we made the marching band completely extracurricular, before in order to do any of the other groups you had to be in the marching band.  The band got smaller, and the band got better because everyone wanted to be there. We started to do better from a competition standpoint when we made that change because there was more buy-in from the students." The students in the band want to be there, and want to perform well for their team, this change allowed students to be more devoted and passionate. As the band got smaller their division changed because divisions are based on the size of the band. RMHS was previously in division 5, with about 100 kids in the band, but with the new rules put in place about 7 years ago the band got smaller so they moved divisions. 
The RMHS Rocket Marching Band had a great season this year and worked really hard. The future is looking bright for this group!