Volleyball Beats Stoneham, Raises Funds for Cancer Research
Annual Volley 4 A Cure Game a Success
Rocket volleyball took on the Stoneham Spartans this week in a win for their charity Volley 4 A Cure game to benefit women's breast cancer awareness. 
The RMHS volleyball program completely swept away their competition this week with 3 wins from the team. The Freshman, Junior Varsity, and Varsity teams won their games against the Spartans. The teams gathered not only to settle a classic rivalry but to raise awareness for women's breast cancer. The RMHS fieldhouse was completely pinked out for the game. Players' uniforms were switched from their classic colors to a new hot pink. Fans in the stands wore pink as well, matching the abundance of pink decorations that were littered throughout the field house. 
Although the entire program came away with wins, it was no surprise that the varsity girls continued to be most impressive. The most notable of performances came from captain Anna Hughes, as well as junior  Abby Farrell. The varsity girls swept their competition, winning the best 3 out of 5 match in the first three games.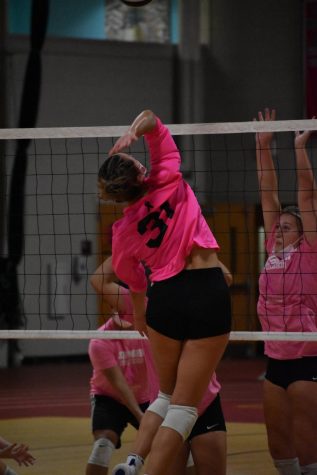 Although winning is always great for the team, this charity game means a lot more to the girls. Senior Christina Sacco stated, "The Volley 4 a Cure Game is so special because it's a fundraising game for breast cancer. It's a big game for us every year, we usually decorate the gym, we have a lot more fans, and the overall energy is a lot bigger during the game. The energy makes the whole game more exciting." 
The energy at this game was certainly high. A high volume of RMHS students attended the game in support of their classmates. The first 50 students to arrive at the game got in for free. Those students out of luck had to pay a $1 admission fee that was donated to the charity. Adults attending had to pay $5.
It was evident that the day was bigger than volleyball. "1 in every 8 women have breast cancer," stated Coach Hopkinson before the start of the game. The program raised money for charity through ticket sales, but also by holding a raffle for a 50/50 as well as certain gift baskets. Raffle tickets could be used to win many great prizes. For example, an attendee could win scratch tickets, local gift cards, and even tickets to see the Boston Bruins play a game. Raffle winners were announced after the end of the second set of the varsity game.
The game also featured the RMHS Jazz Band. The Jazz Band performed in a similar manner to the Marching Band. Whether squeezing in a quick tune at a stoppage of play or playing one of their songs at intermission, many fans enjoyed the presence of the Jazz Band as a new, unique, experience to RMHS Volleyball.