Boys Soccer Takes Down Belmont
The RMHS Boys Varsity Soccer Team took a decisive 2-0 win over Belmont this past Tuesday (9/28) afternoon.
About 30 parents and 20 students watched the game at Hollingsworth Field this past rainy Tuesday afternoon in support of the boys soccer team. After a back and forth start to the first half, Reading quickly started dominating possession of the ball, but didn't score any goals by the end of the first half. Reading came out swinging at the start of the second half, scoring two goals in the first 15 minutes of the last half.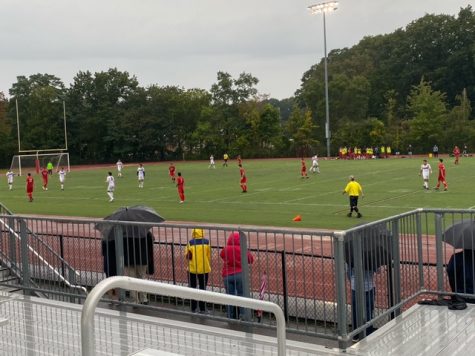 Senior Matt Geraghty had a huge breakaway in the 46th minute, outmaneuvering three Belmont defenders, but shot just off of the right goalpost. He redeemed himself a minute later, capitalizing off of some confusion from the Belmont defenders inside the penalty box, and scoring a beautiful goal in the top left corner. In the 53rd minute, senior Ryan Connolly dribbled the ball all the way down field for another goal, just 7 minutes after the previous goal. The Rockets closed out their game strongly, maintaining their two goal lead.
The Rockets were excited about their performance against the Belmont squad. "Belmont was a talented team," said midfielder Aidan O'Brien ('22), "but we really showed in the second half that we got a lot of talent–we came on fire." Centerback Erik Roberts ('22) said, "I think the team performed pretty well," but thought that they "should've scored a lot more goals" against the Belmont squad.
At publication date, the boys soccer team is still undefeated at 6-0-1.