Soccer Programs Pick Up Wins Over Burlington
On Saturday, September 18th, the Reading Rockets took two wins against both the boys and girls Burlington soccer teams, the girls winning at home, and the boys winning in Burlington. 
Boys Game
For the boys team, Captain Matt Geraghty scored two goals, and Captain Ryan Connolly and Michael Harden scored one goal each. The boys' teammates expressed their excitement for the Rocket goal scorers.  "We are all very happy to see that Matt had a very electric goal and finish and Ryan Connoly had a great assist–world class," said Liam Cruikshank ('22). 
The game started off slow and close, as several of the teammates expressed they were worried in the first half. Aidan O'Brien ('22) expressed,  "In the second half Matt Geraghty scored two goals which really put the game out of reach."  The two goals scored by Matt was their momentum shift and brought them the energy they needed to carry out the win. 
A minor setback for the boys team occurred in the first half when Thomas Kessinger ('23) had to be taken off the field due to a kick to his leg. Kessinger recovered and came back out on the field in the second half of the game. 
Girls Game
The Girls game final score was 3-1 with Captain Jackie Caraco ('22) scoring two of the goals, and Ellie Abreu ('24) with the third, scoring her first varsity goal. Caraco was clear about what she thiought was the most exciting part of the game: "Ella Abreu's first varsity goal which is so awesome for her," she said.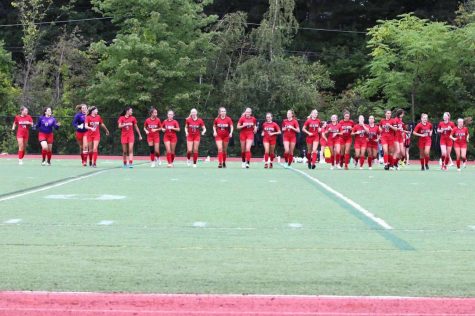 Halftime was a turning point for the team. Elizabeth Murphy ('22) said their coach reminded them what was important in the moment.  "We need to fight for the whole 80 minutes." The team went back out on the field and scored a goal and it was a huge momentum shift for them. "It was just so awesome and thrilling," said Murphy. The team is using a new formation according to Caraco, and it is working really well for them.
Individuals on these teams expressed that having students at their game to support was beneficial to their successes. With both Reading teams bringing in a win last Saturday, this brought both energy and excitement for what the future holds for Reading soccer as they head off to face more teams this season.