A Sweet Treat: Comparing Ice Cream Stores in Reading
It's the end of a long, hot day of school, and you and your friends are looking for something cold and sweet. But where to go? In Reading, there are several choices for ice cream, with one more coming soon. So how do you choose? Well, that depends on what's important to you in an ice cream store.
The Scoop on Richardson's
Richardson's ice cream is located inside Jordan's Furniture in Walker's Brook, right behind Home Depot. This location makes it difficult to access for many students who do not have a car, as it is too far away from the schools to walk to after school. The building does have a very large parking lot, so finding a space to park is never an issue. There is no outdoor seating, but there are several tables inside that are usually available for use, but had to be put away during COVID.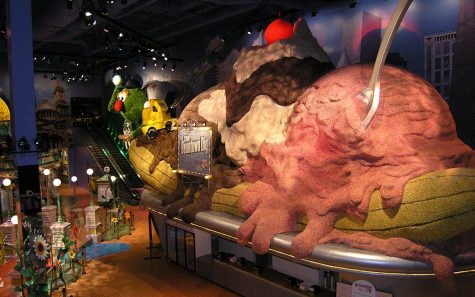 Richardson's is open year-round, so you can get your ice cream fix in the cold winter months. Currently, the store is open from 10 am to 7 pm on weekdays, 10 am – 8 pm on Fridays and Saturdays, and 10 am – 6 pm on Sundays.
When you walk into the building, you are greeted by a massive banana split-shaped storefront with over 100 ice cream flavors to choose from. You can order scooped hard ice cream, frappes, sundaes, or half-gallons of your favorite flavor. Available toppings include chocolate jimmies and various sundae toppings. Because of COVID restrictions, all ice cream has to be served to-go with a lid. One scoop of ice cream – a "kiddie" size – without any toppings, costs $4, including tax. 
The Scoop on Dandilyon's
Alternatively, many Reading residents are familiar with Dandilyon's ice cream, located at 1331 Main Street, next to Reading House of Pizza. This location makes it very easily accessible to students at the High School, Coolidge, Birch Meadow, and Wood End. The parking lot can be an issue to those who want to drive to their ice cream, as there are limited spaces available. However, there are many parking spaces at HomeGoods right across the street, and many people choose to walk from school or their home. Dandilyon's is walk-up only, so there is no indoor seating available. However, there are several picnic benches outside where people can sit to enjoy their ice cream. Dandilyon's is open seasonally, from early March to late October every year. The hours change throughout the summer, but right now they are open from 12-9 every day.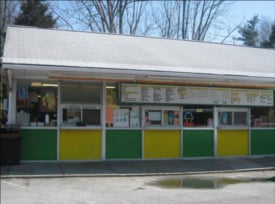 Dandilyon's offers Richardson's ice cream, so the flavors are the same as the Richardson's location in Reading. Unlike Richardson's, Dandilyon's also offers soft-serve ice cream, slush, and homemade ice cream cookie sandwiches. You can choose to top your ice cream with chocolate jimmies, rainbow sprinkles, crunch coat, and several types of candy, as well as sundae toppings. You can also order a hand-packed quart of any flavor of ice cream for around $7, depending on if you order hard or soft serve.
A "kiddie" size (one scoop) of hard ice cream with no toppings costs $3.15, and a kiddie size soft serve costs $2.24 (after tax). Overall, the ice cream at Dandilyon's is significantly less expensive than at Richardson's, making it more appealing to students who may not have a lot of disposable income. Currently, Dandilyon's only accepts cash for orders under $10. If you are spending more than $10, you are welcome to use a credit card. 
The Scoop on Cal's Creamery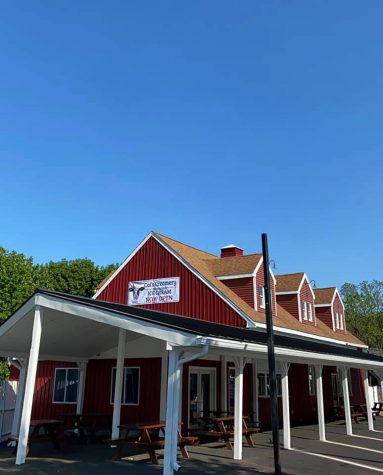 Most Reading residents are already familiar with Dandilyon's and Richardson's, but there is a newcomer joining the scene this May – Cal's Creamery. It is going to be located at 126 Main Street, next to Harrow's Chicken Pot Pie, in the building where Calareso's Farm Stand used to be, and it is going to be operated by the same people that run Meletharb's Ice Cream in Wakefield. Meletharb's has been there for years, so their ice cream may be a known entity to some in town. The owners of Cal's creamery have not yet released the date of their opening day, but they are hoping to open in late May of this year. Cal's Creamery will boast homemade ice cream and an alternative to the Richardson's homeade ice cream currently served as the other two prominent ice cream shops in town.
The Changing Landscape
When asked about the pros and cons of the location of the new place compared to the existing ice cream stores in town, RMHS Senior Ava Serrano pointed out, "It's easier to park at Richies (Richardson's), so I would go there over the new place or Dandilyon's." Both Dandilyon's and Cal's Creamery are located on Main Street, so their parking lots are significantly smaller than the one at Richardson's. 
With the opening of a new ice cream place in town, Dandilyon's employees have conflicting ideas about how the business will be affected. Owner Mark Maselli remarked, "The opening will have an immediate impact from just bringing the new place in town. [People will] want to go and see and try it out. Our business will flatten a bit late May into June." Meanwhile, Manager Nick Caraco is less concerned. He said, "With the reputation we have built over the past 20 years I can say I'm not too worried about them taking too much business away from us." He also pointed out that Dandilyon's has a significant number of "regulars", who come get ice cream very frequently and wouldn't go anywhere else. 
Richardson's employee Allison Wallace echoes Caraco's ideas about their regulars. She remarked that "Richardson's has enough regulars that we won't be threatened by the new place too much."
One thing that could affect the business at Dandilyon's is the location that Cal's Creamery will be in. The two locations are on opposite sides of the town. Dandilyon's is very close to North Reading, while Cal's will be closer to Stoneham. Caraco mentioned, "I do know that location is important to people, especially if they are bringing home ice cream to the family that can melt in the car, a 20-minute drive from Stoneham might cause a soft serve to be a bit more melted than a 5-minute ride from Stoneham." If Cal's Creamery is significantly closer to home than Dandilyon's, people may choose to go to Cal's instead so their ice cream doesn't melt as much before they get it home. 
Overall, the three different ice cream stores in town all have unique offerings that make them appeal to different people in town. The locations are far enough apart from each other that they may not pull business away from the others, and the price points and menu items vary significantly to appeal to different demographics in the town and surrounding area.