Mulvey Makes Lax Dream A Reality
The rubber ball soared through the air, only to be caught and saved from breaking the kitchen window. Brothers Patrick and Kevin threw the lacrosse ball back and forth religiously in their yard. Little did they know, their love for the game would change the life of the little boy across the street, looking out the window at his new idols. It was at the young age of 4 that the soon-to-be lacrosse prodigy, Colin Mulvey, walked out of his childhood home and across Whittier Road to the Dibenedetto residence, the house of his two lacrosse heroes.
"They gave me another stick and I tried throwing it, and really fell in love with it then," said Colin Mulvey, the now 18-year old lacrosse star for Reading High. The truth is, Colin was a star from the beginning. He has many early memories of playing lacrosse as a kid, explaining how "playing every Sunday in the second grade" was his favorite. 
I got the chance to sit down with Colin on the morning of Mothers Day, 2021. He moped downstairs, still in his pajamas. He grabbed the Sunday edition of the Boston Globe, an uncommon thing to do as a teenager, and opened it up. As a friend of his, I'd been to his longtime home on Whittier Road many times, but this time was different. I was on a mission to get to the bottom of what makes this high school star and college commit tick.
"
I was always trying to start for Reading and win the state championship"
— Colin Mulvey ('21)
***
Colin comes from a very extended, athletic family, deeply rooted into the greater Boston area. He and his 3 brothers, Owen, Ryan, and Nate, grew up as heavy hitters in baseball, basketball, and especially lacrosse. A few of Colin's cousins stand out among the seemingly extensive Mulvey clan, as Erin and Timmy are known for their superior running skills, as well as their brother Matt, who will play basketball at Swarthmore, a prestigious college. Looking at the big picture of his early beginnings, it's clear that Colin's childhood surrounded by athletes has influenced his lacrosse career, and may have been the source for his incredible work ethic. 
Mulvey played youth lacrosse in middle school for the likes of well known lacrosse coaches, including PJ Casarano and Steve Moreland, as well as select teams including Twisters and Gorilla Lacrosse–teams that became instrumental in his college recruitment process. All along, Colin had a very specific lacrosse dream, starting when he was a kid. "When I was younger in middle school, I saw all the highschoolers then commit to college, and I'm like 'I want to do that'," said Colin. "I was always trying to start for Reading and win the state championship." 
Spoiler alert: he accomplished all of those things.
***
Colin ended his freshman year with a spot on the varsity lacrosse team, but the road was not all that smooth leading up to that point. "Even during the hockey season, I was playing wall ball and was shooting," he said, "But after hockey ended freshman year I was like 'Ok, I gotta do this,'  and I ended up making the freshman team." The Freshman team – not the result he needed as a good player looking to expand and further his lacrosse career and resume. Yet this major setback didn't stop him one bit from pushing himself even harder that season.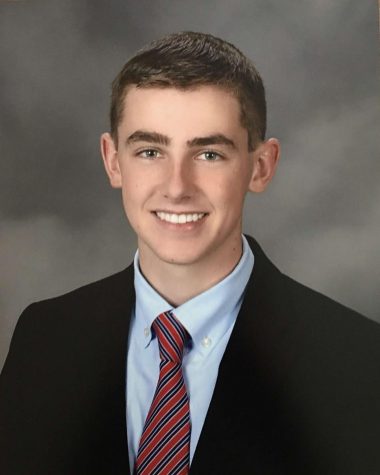 Colin has been a close friend for many years now, and one thing that always impressed me about his athletic career and abilities is his unwillingness to give up. After making the freshman team, Colin took his skills, abilities, and worth ethic to the next level, putting his nose to the grindstone. "I just kept working and I didn't stop, and eventually I got the call-up to play some varsity, and that was that," said Colin. Though he was a member of the Varsity team freshman year for playoffs, he saw little playing time like most freshmen playing at the varsity level. Despite this, he still found a way to put a positive spin on his setback.
"That season I was a bench player," he said. "So I got to appreciate all my years of starting even more." Though I scoffed at his remark, Colin insisted that this had made a positive impact on his career. "I got to see how the game was played from 2 Umass Amherst players (Jack Geiger and Mike Tobin) and a lot of other great players," he claimed. That year, Colin got to experience his team winning the State championship, a feat that many players dream of. Through it all, his perseverance and attitude during his freshman year showed his true colors and true personality as a player who deserves to shine at the Varsity/College level.
***
His career then made a full 180 degree turn for the better his sophomore year. Starting on attack, Mulvey dominated the field, not afraid to crash the net or deliver a clever deke, tripping up his defender. He finished that year with an astonishing 50 points, a high school career high for Colin. Starting then, it was clear that Colin's path was lacrosse at the collegiate level.
His junior year looked promising for a state title. The team was stacked with talented seniors and juniors, many of whom would go on to play in college. Then the Covid-19 pandemic struck, and the season was cancelled. This was a huge blow to the many college-lacrosse hopefuls, including Colin himself, because a player's junior year is where most of the recruitment and contact with coaches happens. 
I learned of Colin's father, Mr. Kevin Mulvey's opinion on the matter when I got the chance to speak with him also. "The most difficult part of the Colin recruitment process was Covid," said Mr. Mulvey. "Junior year is important for high school kids playing lacrosse in college, [and] Colin always viewed playing in junior year as a replica of 'if he could do it'."  
Not having a junior year was devastating to Colin's resume and aspirations, but he was still determined to make his lacrosse dreams come true. With the help from his parents, Colin created video edits of all his highlights from across his high school and select career. "We were able to compile his sophomore year in a video take," said Mr Mulvey, "[And] pull things together in a video from Gorilla lacrosse, Twister lacrosse, and his Sophomore year."
"
St A's called, and I'm glad they picked me, that's the one I really wanted to go to."
— Colin Mulvey ('21)
***
That summer leading into senior year, Colin was without a college bid but was still working toward his dream. Luckily, he was playing in Twisters Lacrosse tournaments put on by Twisters head coach Steve Moreland, who Mr. Mulvey credits as being a huge contributing factor to Colin's recruitment process. "Getting in front of coaches was the hardest part," said Mr Mulvey. "There weren't enough tournaments for college coaches to see the kids, [and] were not actively allowed to go out and recruit." Without the tournaments organized by Mr. Moreland, Colin's college hopes may have never come true. 
After applying and sending in film to schools in the fall of his senior year, Colin waited many long months until he heard back. His anticipation continued to grow through every passing week, and described this as the hardest part, in his mind, of the recruitment process. "You send out your highlight clip to whoever, could be one or ten schools, and then you're just waiting." Through that he remained hopeful. His situation reminds me that things always work out in the end. "Obviously you keep working, you don't just sit on the couch," colin exclaimed, "But eventually someone will call." 
Finally, after many years of blood, sweat, and toil, and many months of sitting by the phone, waiting, Colin finally got the call to play at the college level. His pick: St. Anselm's College, an excellent school with a great lacrosse program, located just outside of Manchester, New Hampshire. "The St. A's coach saw the [recruitment] video and liked what he saw, and told the twisters coach he wanted to make Colin an offer." Said Mr. Mulvey. Colin was ecstatic. "Finally, St A's called, and I'm glad they picked me, that's the one I really wanted to go to."
Mulvey will play for the Hawks, starting in the spring of his freshman year, and it couldn't come soon enough. "It's a fantastic school and I'm looking forward to that," said Colin. "They have a great alumni network and they have a great political science network which is what I'm going into."  
***
 I got the chance to see Colin in action. Reading played Winchester in Winchester, and it was a big deal. Winchester is one of the only legit teams that Reading plays in this shortened season, and stakes were high. Not to mention the fact that Winchester and Reading kids have always had an unspoken rivalry with each other, regardless of the sport. The stands were packed and the sun scorched down. It was 3-3 going into halftime, but once the game resumed, Reading came out, guns blazing, scoring 8 unanswered goals.
I had seen clips of Colin on youtube, but watching him in person was truly something special. Colin could be seen running laps around the defenders, and was never afraid to put his body on the line for the play. He even leveled the goalie when he tried to deke Colin. I've never seen anything like that. He would then put on a clinic against Winchester, scoring 3 goals in the second half, one of them going right over the goalkeeper's shoulder, an impressive feat. It was clear in the past, but it's even more clear now that Colin is a player who deserves to thrive at the college level.  
Most in Colin's shoes would have given up if they faced what he did. There's an old saying that "hard work makes dreams come true."  Colin's story proves that point extraordinarily.