Kim Janey, RMHS Grad, Now Acting Mayor of Boston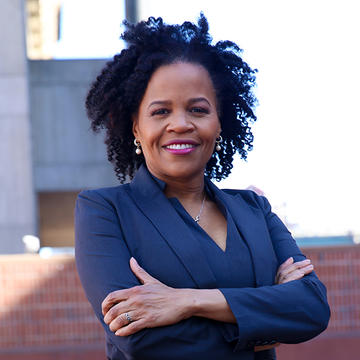 RMHS alumna, Kim Janey, was sworn into the office of Acting Mayor of Boston on March 24,2021. 
Former Mayor of Boston, Martin Walsh, has been chosen as the Secretary of Labor in the Biden  administration.  City of Boston protocols call for the president of the Boston City Council to assume the role or mayor if the current mayor cannot serve a full term.   So, Ms. Janey, who was council president, has been sworn in as Acting Mayor until the election in November. Mayor Janey is making history by being both the first woman and first Black mayor of Boston. She grew up in Roxbury, MA, and attended high school at RMHS as a member of the METCO program.
"
She is about as true an example of a Rocket as there ever was."
— Mr. Hightower
Mayor Janey attended RMHS for high school after facing discrimination at a Charlestown middle school. As detailed in her City of Boston biography, Mayor Janey took the bus into Reading from Roxbury every day as a part of the METCO program. At RMHS, Janey was one of two Black students in her graduating class. During her junior year, she became a mother, and worked multiple jobs to provide for her and her daughter. Janey graduated from RMHS in the spring of 1983. 
After graduating from RMHS, she attended a community college for a few years. Afterwards, she attended Smith College in Northampton, MA, but later had to suspend her studies to care for her grandmother. Janey is passionate about education, especially that of minority groups, equality, economic justice, diversity, fair housing, voting rights, and fully ending the War on Drugs. Some of her accomplishments include, but are not limited to, work in the MA Advocates for Children leading for policy reform for equal education, advocating for dual language schools, her election to the Boston City Council of District 7, and now her position as Mayor of Boston. 
The Reading METCO director, Mr. Hightower, sees the new mayor as an inspiration for all METCO students. When reached by email, he shared: 
"Whether it is acknowledged in Reading or not, Mayor Janey's appointment as Mayor is a galvanizing event for our program. For the students in METCO, specifically our young Women of color in Reading, she represents that through consistent and unrelenting dedication to service, you put yourself in the position to seize opportunity. To know that she rode the same kind of bus, walked the same halls, and survived the often recondite experience of a student in the METCO program empowers them and helps bring a certain clarity to the possibilities that lie ahead later in life.
"It's a source of pride for me as a Director because we are a very small program compared to others in the state, and there is a level of joy that comes from being connected to this small piece of history, a member of a program that was a part of this historical moment. I think RMHS should rejoice in its connection to the life of one of the few people to hold this office. In some way, be it large or small, her experience in Reading impacted her trajectory, taking her to places never before imagined. The students and families of the program watch on in awe, and somewhere in that group one or two of them believe it's now possible for them to achieve what she has. She is about as true an example of a Rocket as there ever was."
 Mayor Janey is an illuminating figure for RMHS students. She proves what students of RMHS are capable of and where hard work can bring them.  The Reading community should be incredibly proud of Mayor Janey's connection to our school system and our METCO program.