Harden Breaks Long-Standing Track Record
Senior Now Owns 300 Record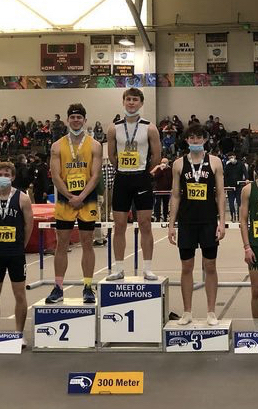 Last Saturday, Michael Harden ('22) placed 3rd in the 300m at the MIAA All-State meet and, in the process, broke the previous school record of 35.55 with a 35.37.
Harden, a senior captain of the track team, has had a massive impact on the program since transferring from St. John's Preparatory School following his Sophomore year. Head Coach of the boy's team Scott Price stated, "He's been a wonderful addition to our track program. His development over the last year has really pushed him to become the runner that he is." Harden also admitted he is glad to be a part of Reading's track team, "I'm very honored to be apart of this program."
The previous record, held by Josh Borak ('97), had stood for 25 years. Harden added, "With all the hard work and dedication I have put in, I am happy and proud to have been able to break the school record." Mr. Price seconded Harden's excitement over breaking the record. "It's so exciting because that is a good record that he broke." This record comes after several races of Michael just barely missing the record, with previous times coming as close as 7-hundredths of a second from the mark.
In conversation, Mr. Price spoke highly of Harden's growth as a runner. "I think he's become a more confident individual. He's certainly motivated, and he's a hard worker. I like to think that me being a sprint guy…has helped him become more of a technical runner and have more strategy…In the end, he's got the talent and he has put the time in." Harden also feels that Mr. Price has helped him to reach this achievement "I want to thank Coach Price for helping me and inspiring me to break the record."
Harden will continue his track career during the spring season, and next year at the University of Massachusetts-Amherst.